How to Connect Smart TV to Phone:
If you own a new smart TV, you can easily connect it to your phone using Bluetooth. Most iPhones and Android phones have Bluetooth built-in.
Just turn the devices on and make sure they are close to each other. Then, you can start screen sharing. Your phone will be able to display the same image as your TV.
Screen mirroring is a great way to connect your phone to a TV:
Screen mirroring allows you to connect your iPhone or Android device to a smart TV. This allows you to use the touch-screen controls on the mobile device to control the playback of movies, TV shows, and games.
You can easily control playback by tapping the control buttons on the mobile device. You can also control the playback by pressing the Home button on the Roku remote.
Once you've set up the screen mirroring feature, you'll need to select the appropriate adapter or cable for your TV or projector. Once you've chosen the right type of device, the TV or projector will begin playing the video stream from the URL you provide.
If you're looking for a simple way to connect your phone to a smart television, Screen Mirroring is a great choice. You can watch movies and other videos on your phone while you're on the go, or relax in the comfort of your own home with friends and family.
Screen mirroring is a free and easy way to connect your Android or iPhone to a smart TV. Screen mirroring is compatible with almost any television that supports a wireless connection.
MHL or HDMI cable:
If you want to connect a Smart TV to your smartphone, you can use an MHL or HDMI cable. These cables are compatible with a wide range of devices, including phones and tablets.
MHL technology allows you to view content from your smartphone on your TV without a Wi-Fi network. If you don't have an MHL-compatible phone, you can also use a Lightning to Digital AV adapter to connect your mobile device to your television.
There are a few things you should know before purchasing an MHL cable for your phone. To start, make sure the source and destination devices have MHL capability. Then, check to make sure the HDMI connector on the destination device is MHL-compatible.
If you have an older phone, you will need to purchase an MHL adapter. It is possible to use a generic MHL adapter, which is cheaper and just as effective.
Once you've installed the adapter, plug the MHL cable into the phone's USB port and connect the TV to the adapter.
Most internet-connected televisions support the DLNA protocol, which will allow you to stream content from your phone to your TV. Netflix, however, will not support this protocol.
Airplay:
If you have an iPhone or iPad, you can easily connect your smart TV to your iOS device using AirPlay. To do this, make sure that the TV is compatible with the AirPlay feature. In addition, it should be on the same Wi-Fi network as your iPhone.
Then, power up your phone or tablet and choose the TV from the Control Center. The TV will then ask you to enter a passcode to complete the connection.
If you are unable to connect to your smart TV, tap the AirPlay icon on your phone. This will allow you to mirror the screen of the iPhone or iPad onto your television.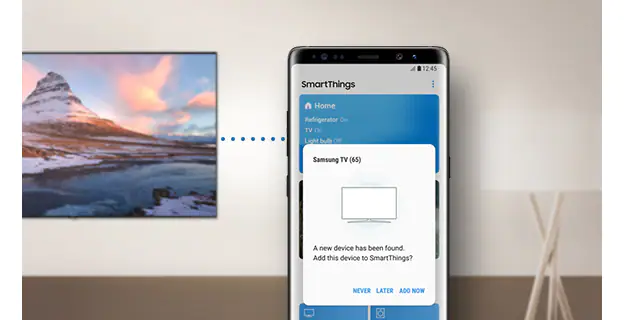 Tap the icon before or after playing a video or opening a file. Your iOS device will then start scanning for an AirPlay-supporting TV or streaming device.
Once you've set up AirPlay on your phone or iPad, you'll need to turn your Samsung TV on. To do this, open the Photos app and select an image or video.
After you've selected the photo or video, select the Share icon and select AirPlay to view the content on your television. You may also need to adjust your settings on your phone or TV to make AirPlay work properly.
Hardwired connection:
One of the best ways to connect your phone to your TV is through a hardwired connection. A hardwired connection will provide a low-latency signal, which is essential if you plan to play games or watch movies on your Smart TV.
In addition, a hardwired connection can be useful for people who don't have Wi-Fi on their phones or have weak wireless signals.
Another option is to use an HDMI cable. While this may be the most common way to connect your phone and TV, you need a special cable to connect the two devices.
The cable can be either a micro USB to HDMI adapter or a USB Type-C to HDMI cable. This adapter bolts onto the ports of the phone and TV. If you don't have either of those cables, you'll need to purchase a special adaptor.
While there are some benefits to using an Ethernet cable, it's not always as convenient as using Wi-Fi. A wired connection is usually faster than a wireless one, and the data will arrive faster.
In addition, ethernet connections are more secure because they don't have to go through the air. Ethernet connections also have better security because they don't travel through any local interference.