How to Connect a Security Camera to a TV:
When you've got a security camera that you'd like to connect to your television, you have a couple of options.
First, you can stream video footage using Wi-Fi. Second, you can use a network video recorder or third-party video-to-TV software.
Streaming video footage with Wi-Fi:
The ability to stream video footage from a security camera to a TV is a great way to keep a watchful eye on your home.
Security cameras can be hardwired to a security system or wirelessly connected to a Wi-Fi-enabled TV. Wi-Fi-enabled security cameras can also be connected to a smart home system.
Most cameras record footage onto an SD card, allowing you to view it anytime. If you'd like to view it immediately, a live-feed camera is easier to install.
Streaming video footage with Wi-Fi from a security camera to a TV requires a smart TV. For a smart TV, you'll need an app that allows you to control the camera through voice commands or remote control.
When connecting a security camera to a TV, make sure to connect the video output and power cables to the same power source. Then, connect the video and power cable to a standard 110-volt power outlet.
When connecting a security camera to a smart TV, you'll need the camera's IP address, user name, and password. Be sure to choose a location that has optimal visibility for the camera.
Streaming video footage with Wi-Fi on a smart TV requires a smart TV or smart display. You'll need a Chromecast or an Apple TV with a Wi-Fi-enabled platform.
For Samsung TVs, you'll need the SmartThings app, which you can download from the TV app directory. It allows you to view images from your SmartThings cameras. Some cameras even have web browser features that allow you to view video footage on a smart TV.
Using a network video recorder to connect a security camera to a TV:
If you want to view the footage from a security camera on your television, you can easily use an RCA adapter. You can buy these at most electronic stores. However, you won't be able to view high-definition footage.
Also, the connection cable must be plugged into an electrical outlet. Once you've done that, you need to turn on your monitor and select the video input.
If you are looking for a security camera with an HDMI output, you can easily connect the security camera to an NVR with an HDMI cable. You can then connect the NVR to your TV using a standard HDMI cable.
In addition, make sure that your security camera and the NVR use the same ONVIF protocol so that they can communicate. You can also buy a multi-camera NVR with up to four, eight, or 16 channels.
In addition to this, your smart TV can receive notifications or motion alerts from your security camera. This way, you can be alerted of unauthorized activity in your home. Smart TVs are also compatible with security cameras that are Wi-Fi enabled.
You can also connect your security camera to a smart TV using the HDMI port. You will need an HDMI cable and an adapter. Using an HDMI connection is the easiest way to connect your security camera to a smart TV.
In this way, you won't need to download any software or third-party apps. However, your smart TV must be equipped with Wi-Fi compatibility to allow you to watch your security footage on a big screen.
Using 3rd party software to connect a security camera to a TV:
You may have wondered if it is possible to connect a security camera to a television without having to purchase a CCTV DVR. Some customers simply want to see the live video feed directly from their security cameras.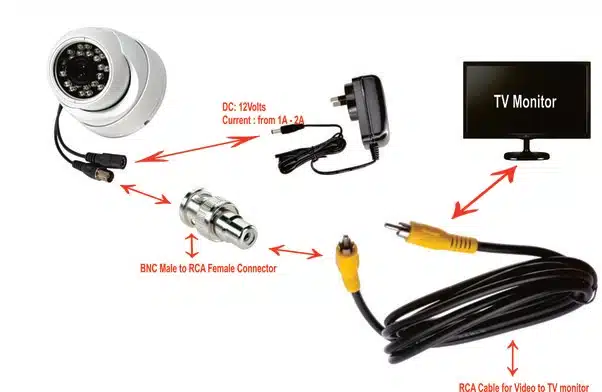 There are many ways to accomplish this. In this article, we'll go over some of the most common methods, which can be used to connect one or more cameras.
The best way to view the feed from a security camera is to connect it to the TV using an HDMI cable. From there, you can simply select the source channel on your remote control and view the video footage.
If your security camera does not have a hard drive, you can simply download a free application from the app store and view the footage on your television.
Another option is to use Roku. Roku supports third-party apps, called channels. These apps allow you to connect to IP cameras and monitor their video feeds.
Some of these apps are free, while others require a small subscription. Once installed, the third-party app can be easily connected to your security camera.
The software also lets you configure timers, capture video as JPEGs, and send notifications through a loudspeaker.
Some software even has motion-detection capabilities, making it easy to detect motion and view live video from different angles. Many of these applications can also be used to monitor multiple security cameras using the same software.