How to Connect Alexa to Samsung Smart TVs?
How To Connect Alexa To Samsung Smart Tv? Many Samsung Smart TVs have an Alexa assistant built in. You can enable Alexa on these TVs through the SmartThings app by discovering your TV as a device.
This guide will show you how to connect your Samsung Smart TV to Alexa so you can use voice commands to control your TV. You will need to have the SmartThings and Amazon Alexa apps installed on your phone.
1. Turn on your TV:
If you want to control your Samsung TV using Alexa, first make sure that your TV is turned on and that the SmartThings app is configured. This will allow the app to find and connect to your TV, which in turn will allow Alexa to work with it. So You can do this by opening the Alexa app on your phone or tablet and navigating to the "Devices" section. You can then select the "Samsung SmartThing" option and follow the on-screen instructions.
You should also be able to launch apps and stream content with Alexa on your Samsung TV, depending on the model you have. If you don't have a SmartThings app, download the Android or iOS version and create an account by providing your email address, creating a password, and entering other personal details.
Once you have created your account, you should be able to open the app and find the SmartThings option in the menu. Next, you should enable the skill and then link your accounts. Once the device is connected, you should be able to use your TV with Alexa with commands such as "turn on," "turn off," and "pause." You can even mute your TV's mic with Alexa. This can be very useful for older or disabled people who may not be able to use the remote.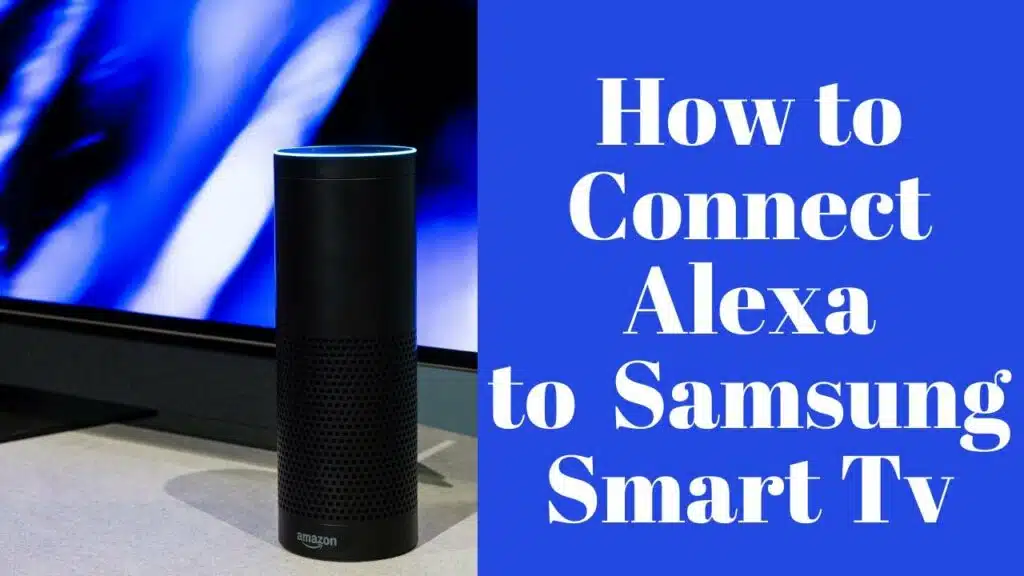 2. Open the SmartThings app:
If you have an Amazon Echo or another Alexa-enabled device, you can connect it to your Samsung Smart TV. The process is simple and easy, and it allows you to control your TV with voice commands. You can use Alexa to turn on and off your TV, change stations and more. It can even play or pause movies or TV shows.
You can also use Alexa to control other SmartThings devices in your home. These include light bulbs, switches, dimmer switches, door locks, thermostats and more. You can also set up Routines to automate tasks like turning on or off your lights or running a playlist when you're home or away.
First, make sure your TV is connected to the same Wi-Fi network as your smartphone or tablet. Then, open the SmartThings app and select More or Your Apps from the bottom menu. Find the option that says Alexa Control with Smart Speakers or something similar, and then select it.
The app will then ask you to link your accounts. You will need to sign in with your Samsung account information, which you can find on the back of your TV on the silver label that has the model number and other important info. Once you've done that, you'll need to enable the SmartThings skill in your Alexa app.
3. Enable the skill:
Before you can use Alexa with your Samsung Smart TV, you need to enable the skill. You can do this by opening the Alexa app and tapping the More icon in the bottom right corner of your device. Then, scroll down to the Skills & Games section and find SmartThings. Once you have enabled the SmartThings skill, it will automatically connect Alexa to your Samsung Smart TV.
First, make sure your TV and your smartphone are connected to the same WiFi network. You can also try resetting your router connection by unplugging it for 60 seconds and then plugging it back in. If you have multiple WiFi networks in your home, make sure that your Samsung TV and your Echo devices are on the same one.
You should also make sure that your TV is set up as a "Thing" in the SmartThings app. You can do this by signing in with your Samsung account on the TV. Finally, you must have the SmartThings and Alexa apps on your phone in order to synchronize your TV and Amazon Alexa device.
You can download the SmartThings and Alexa apps for both iOS and Android devices. You must use the same account on both of these apps to synchronize your TV and Alexa device. After you have both of these apps, launch them and follow the on-screen instructions to synchronize your devices.
4. Link your accounts:
Samsung TV's that are compatible with Alexa will have the ability to play and pause video content, control the volume up and down, switch inputs, open TV apps and much more all by voice. To use this feature, you will need to have a stable Internet connection, the Samsung SmartThings app and the Alexa app on your phone. You will also need to have the correct account information for your Samsung and Amazon accounts.
Once your TV is set up, you can launch the SmartThings and Alexa app on your phone. On the Device menu, your TV will be displayed as a basic connected device that can be used with Alexa. Then, choose the 'Add device' option in the Alexa app. Once your device is discovered, you can enable its use with Alexa by using the toggle button.
If you have Roku, you can use your Alexa app to link your TV with your cable provider's service. This will let you watch your favorite shows on Netflix and pick up where you left off or go to the next episode if you tell her, "Alexa, watch Squid Game." However, you will need a compatible cable box from your cable provider to use this feature. If you aren't sure if your Samsung TV will work with Alexa, check the list of compatible devices on the SmartThings website or in the SmartThings app.