How To Connect Boat AirDopes 141 To Bluetooth Devices?
The earbuds automatically power on & get into pairing mode as soon as you open the case.
To reset them factory-fresh, triple-tap the capacitive touch control on both earbuds & close the case lid. You'll know it worked as 4 LEDs glow in the case & its green indicator light blinks alternately red & blue.
1. Turn On Bluetooth:
This step is important because it will enable your earbuds to pair with other Bluetooth devices. You will need to connect your earbuds to the same device you want to use them with before doing this. If you are using your earbuds for a particular purpose, like listening to music while you exercise, it is important that you set up them properly to ensure that they are as effective as possible.
If you have already connected your earbuds to another device, you should first delete the existing pairing from your phone's list of available Bluetooth devices. So, if you don't, your earbuds will continuously reconnect to the last paired device and won't be able to disconnect from it automatically.
You can also reset your earbuds manually by following the steps below. Please note that this method will remove all of your settings, so you will need to re-pair them once you've finished.
Activate Bluetooth on your smartphone and search for "BoAt Airdopes." If you are prompted to enter a PIN, enter 0000, which is the default passcode for most Bluetooth devices. Once the earbuds have been successfully reconnected, they will display as "boAt Airdopes 141" in your phone's Bluetooth list and the LED on the case will turn white. The earbuds will also power on and pair with each other, enabling stereo usage.
2. Tap Pair:
The earbuds automatically enter into the connection mode as soon as you open the case through IWP tech. It will connect to the last paired media device by default. Alternatively, you can also manually connect them for the first time by going to Bluetooth settings on your media device or phone and searching for 'boAt Airdopes 141' and tapping to pair. Once you have done that, the earbuds will get switched to mono mode (single earbud usage) as indicated by red and white LED flashes.
You can activate voice assistant by long pressing the capacitive touch control on either earbud for 2 seconds to launch Google Assistant. You can also adjust the volume via your media device/phone. Once you are done using them, simply insert them back into the charging case and close it.
Once the earbuds are switched off, you can perform a factory reset to restore their original state. To do that, first make sure the earbuds are not connected to any other device and then triple tap the MFB of both the earbuds. A successful factory reset will be indicated by alternate red and blue LED flashes. Once done, close the lid of the charging case and wait for some time before you open it again.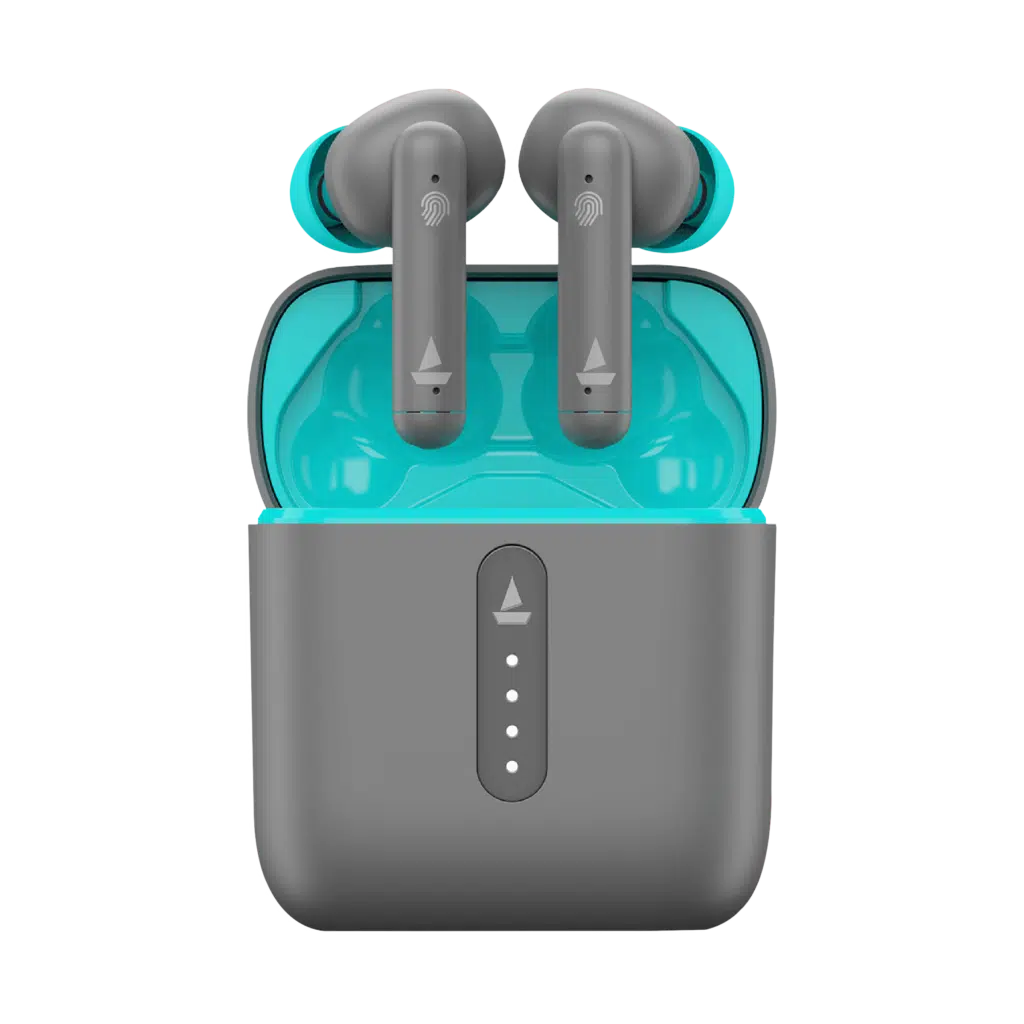 Stay Plugged Into Nirvana for longer with up to 5H of music playback and ASAP charge that powers you up to 60 minutes of listening. IWP technology and Bluetooth v5.2 ensure a premium wireless listening experience.
3. Wait for a few seconds:
It might take a few seconds for the earbuds to connect. Please be patient and wait until the BLUE/RED LED indicator of both earbuds stops blinking. Once the LED indicator of both earbuds stops flashing. You can disconnect the Power Case and reconnect your earbuds to your smartphone.
If the AirDopes 501 ANC are not connecting to your device after factory reset. Place them back inside the power case & press the capacitive touch control (CTC) for 10 seconds. The LED of the case will start blinking white, indicating that the reset is complete.
BoAt AirDopes 501 ANC are equipped with IWP (Insta Wake N' Pair) Technology. That automatically powers on the earbuds & put them into pairing mode as soon as you open the lid of the charge case. This will allow you to stay Plugged Into Nirvana for long hours without having to worry about battery life.
4. Tap Connect:
The earbuds will automatically power on and begin pairing with your device. Once it's finished, you'll receive a notification in the form of a blue checkmark. You can now start streaming music and taking hands-free calls with ease.
The boAt Airdopes 121v2 is one of the top-rated wireless headphones in the market. It features high-quality audio and is compatible with most Android devices. In addition to that, the earbuds are lightweight and comfortable. They're also water-resistant, which makes them perfect for outdoor use. In addition, the earbuds are designed to provide a premium listening experience with immersive HD sound and a built-in microphone.
The earbuds are powered by an intelligent battery. That provides up to 30 hours of music playback and features ASAP charge for quick replenishment. The earbuds come with an easy-to-read user manual to guide you through the process of connecting them to your device. This manual includes information on how to connect Boat Airdopes to a Bluetooth device. As well as step-by-step instructions for setting up and using the earbuds. You can also find tips for troubleshooting any issues with the earbuds. If you need additional help, you can always contact customer support. The company's support team is available around the clock. In addition, the company offers a 30-day money back guarantee on its products.