How To Connect Noise Smart Watch With Mobile Device?
How to Connect Noise Smart Watch With Mobile? Connecting your Noise smartwatch to mobile device is a straightforward process. You can do this by downloading the Noise app on your Android or iOS smartphone and following the prompts.
Once you've done that, you can enjoy all the features of your watch including notifications and hands-free calling. You can also control music playback remotely.
How to Pair Your Noise Watch With Your Phone?
The process for connecting a Noise smartwatch to your mobile phone is simple and straightforward. Once you have paired your device, you will be able to track your fitness activity and receive notifications directly on your wrist. In addition, some Noise smart watches also allow you to control music playback from your watch.
To connect your device, first make sure that Bluetooth and Location services are enabled on both your phone and the Noise smart watch. It is also recommended that you keep the NoiseFit app and your device's firmware up to date. These updates often include bug fixes that can help resolve connection issues. If you continue to experience problems, try restarting your phone and the Noise smart watch. If that doesn't work, you can also try reinstalling the NoiseFit app.
Once you have successfully paired your Noise smartwatch with your mobile phone, you will be able to track your workouts and sleep and get notifications from your favorite apps. In addition, you will be able to use your watch as a remote camera shutter for taking group photos or selfies. If you have any questions, please contact Noise customer support. They will be happy to assist you.
Pairing Your Noise Watch With Your Phone Using a QR Code:
If you want to receive call, text and social media notifications on your watch, make sure your phone and watch are both in Bluetooth range. You can check this by opening the app, tapping the 'Menu' icon and going to Settings. Then tap the 'Watch Notifications' option. Then, select the permissions you want to grant (optional).
To set up your watch with a specific profile, first open the app and select 'Pair Your Device.' This will display a QR code that you need to scan using your smartphone. You can also skip this step and complete it later.
Once you've done this, the app will notify you that it has successfully paired with your device. You can now use your smartwatch with all of its features, including syncing your music, tracking your fitness and more.
If you're having issues with pairing your Noise smartwatch, try restarting both your phone and watch. This can often resolve minor glitches and connectivity errors. You can also contact the brand directly for support. The best part is that this process is quick and easy. All you need is a compatible phone and the right software. Once your smartwatch is paired with your phone, it'll become your personal assistant that can help you stay on track and reach your health and fitness goals.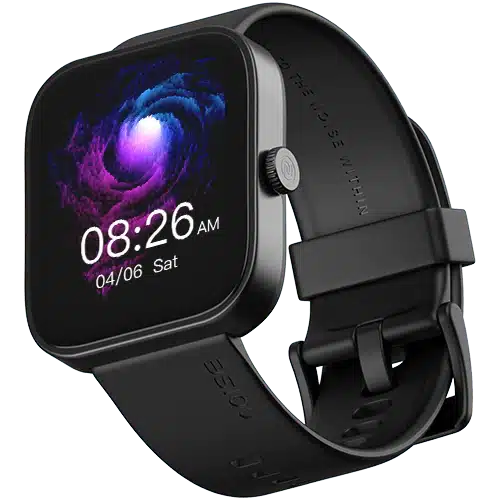 Pairing Your Noise Watch With Your Phone Using the NoiseFit App:
Whether you want to monitor your heart rate while sleeping or control music playback, Noise smartwatches offer plenty of functionalities. Many models come with a bright, responsive display for clear visibility in any setting, while some also feature touchscreens for simple navigation. Additionally, some feature auto sports recognition for accurate tracking while exercising, as well as sleep, female health, and stress trackers.
Easily sync your digital life with Noise smartwatches that feature Bluetooth connectivity. Enjoy hands-free calling and access your favourite apps straight from your wrist. Moreover, some models come with a built-in speaker and mic that allow you to take and receive phone calls. Additionally, you can save 10 of your contacts to your device for quicker dialling.
Noise offers a range of stylish smartwatches for men and women that complement any attire. From classic designs to bold and patterned styles, you can find the perfect smartwatch for you from a wide selection of colours and finishes. Additionally, you can enjoy the added convenience of wireless charging and long-lasting battery life.
To pair your Noise smartwatch with your mobile device, download the NoiseFit app. Once the app is installed, turn on your watch and follow the instructions to scan the QR code displayed on its screen. Once paired, you can start tracking your fitness progress and receive notifications on your mobile device. If you experience any issues, try restarting both your smartphone and watch to resolve the problem.
Resolving Connectivity Issues:
Noise smartwatches come with a wide range of connectivity features that allow you to stay connected to your smartphone and other devices. They can provide notifications from your phone and track your fitness goals, as well as make calls and send texts to other people. Many of these watches also feature voice control, allowing you to access information and control your watch using simple commands.
Despite the many benefits of these devices, they can sometimes experience issues with their Bluetooth connections. If you are experiencing this issue, there are a few steps that you can take to resolve it. First, ensure that your watch and phone are both powered on and have adequate battery power. Next, make sure that the Bluetooth settings on both devices are enabled. Finally, it may be a good idea to reset the settings on your device.
How to Connect Noise Smart Watch With Mobile? If you continue to experience trouble connecting your Noise smartwatch, it is possible that a third-party app could be interfering with the device's Bluetooth connection. For this reason, it is a good idea to disable any third-party apps on your smartphone until you have solved the problem. If this doesn't work, you can try rebooting the watch by pressing and holding the Power key and the Home key at the same time until "Rebooting…" appears on the screen.