How to Connect CCTV Camera to PC Software:
If you want to monitor your property from the comfort of your PC, there are a variety of software packages available.
The IP camera software is usually easy to install. Just follow the instructions from the manufacturer, power on the camera, and connect to the network.
Then, download and install the software on your PC. Once the software is installed, connect the camera to the software.
SecuritySpy How to connect CCTV camera to PC software:
If you're interested in monitoring your home or office from home, SecuritySpy can be a good choice. It offers a number of useful features, including remote viewing and downloading of captured footage.
You can also control the software remotely from anywhere, either over a local network or through the Internet.
The software also has a feature that allows you to customize which cameras you'd like to monitor. Each camera has a unique identifier.
When you configure each camera, you can select which columns to display, and you can even configure its settings and schedule. You can also permanently save these settings in the software.
Another feature that SecuritySpy has is the ability to associate local audio inputs with your cameras.
These can include USB, FireWire, Thunderbolt, or built-in audio inputs. These inputs support digital and analog data, so you can listen to audio streams while you watch your home.
Deskshare IP Camera Viewer:
The Deskshare IP Camera Viewer software is a free video monitoring software for small businesses that allows you to monitor up to 4 CCTV cameras at a time.
This free software also supports centralized camera management, full-screen viewing, and a variety of zoom controls. Its features make it an ideal software for businesses.
The IP Camera Viewer has an easy-to-use interface and supports a wide variety of IP cameras. It can display the feed from up to four cameras simultaneously, with a simple and user-friendly interface.
The program also offers a good degree of control over video feeds, including brightness, color saturation, and resolution. It also allows for digital zoom.
In addition to connecting CCTV cameras to PC software, Deskshare IP Camera Viewer also allows for remote viewing and recording of videos. Users can also set the timer for viewing or recording images, receive alerts via email, and receive notifications on loudspeakers.
The software works with both web cameras and IP cameras, and it also supports motion detection. Its interface is easy-to-use and has clear icons. It supports over 1,200 different camera models. You can customize layouts to match your viewing style.
Clouds:
There are several ways to connect your CCTV camera to CloudSEE. First, open the CloudSEE app and click on the + icon in the upper right corner.
This will bring up a drop-down menu with security camera options. Alternatively, you can add your security camera by clicking on the sound wave icon.
Once you've downloaded the CloudSEE application, log in to your CloudSEE account using your email address or phone number.
You can also use a visitor login if you have one. If you're not sure which way to log in, CloudSEE also has a Demo mode and registration for a paid membership. However, if you're not sure about these things, you can always try a visitor login first.
In addition to being a remote camera application, CloudSEE allows you to manipulate the surveillance feed from your CCTV camera. This is perfect if you're concerned about the safety of your home. It is easy to use and offers an intuitive interface.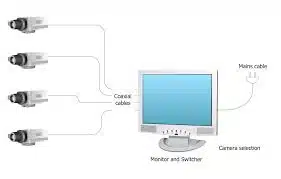 Dream How to connect CCTV camera to PC software:
Dericam software connects CCTV cameras to computer software for remote monitoring. The software connects the camera to your PC via the Internet.
Dericam is compatible with any Windows or Mac computer and has a variety of features and functions.
The software features a 360-degree pan and tilt visibility, a ninety-degree viewing angle, and advanced structure and motion control. It gives you a complete view and full protection from criminal activity.
Dericam has two software options. The first one connects the camera to a network through the Internet. The second option lets you connect the camera to your PC via a USB cable. Dericam software also comes with a wireless connection.
You can either connect to the camera through your WiFi network or connect through the internet using a wireless router. If you have a wireless router, you can enter the IP address of your camera into the software.
The Dericam software connects the CCTV cameras to computer software. Dericam offers a Windows and Mac CMS.
The CMS allows you to view recorded video and control recording from the camera. Dericam CCTV software has many advanced features and options.