Whether you're planning a movie night with friends or just want to play games on a larger screen, there are plenty of reasons to connect your iPhone to your TV.
Apple made it easy to mirror your iPhone's screen to your smart TV with AirPlay. You simply need to ensure that your iPhone and your TV are both connected to the same Wi-Fi network and that they support AirPlay.
AirPlay How to Connect iPhone to TV:
Apple's AirPlay technology lets you wirelessly stream video, photos, and music from your iPhone or Mac to a TV. The feature also lets you share content with other devices.
You can connect your iPhone to your TV with an AV cable or an adapter that supports HDMI, such as the Apple iPhone to HDMI Adapter.
Then, you can use your iPhone's screen mirroring feature or the AirPlay option within third-party apps like Hulu to display content on a larger monitor.
The downside to this method is that it can drain the battery on your iOS device. However, it's a good option for some video and audio apps. It also allows you to pause, fast forward, and rewind videos.
DLNA:
DLNA, a standard developed by Sony in 2003, allows you to stream content from your iPhone or computer to your TV using a home network.
It's also used by a number of other devices, including Blu-ray players, media boxes, and game consoles.
Many digital formats, such as video files, audio files, and photo files, are compatible with DLNA. However, some of these files may be protected by Digital Rights Management (DRM) restrictions.
So, to stream the music or videos on your iPhone to your TV, you'll need to download a third-party app that supports DLNA. Some apps are free, while others are paid.
DLNA is a technology that's built into billions of products across the electronics industry. It's a pervasive standard that can be found in appliances, media storage, audio systems, printers, routers, personal computers, and game consoles.
Screen Mirroring:
Screen mirroring allows you to display your iPhone or iPad's screen on a TV, so you can view your media on a larger display. This can be useful for sharing photos, videos, presentations.s or gaming experiences with family or friends.
To use AirPlay, you need a compatible smart TV or Apple TV and an iOS device running iOS 12 or higher. The process is simple and easy to do.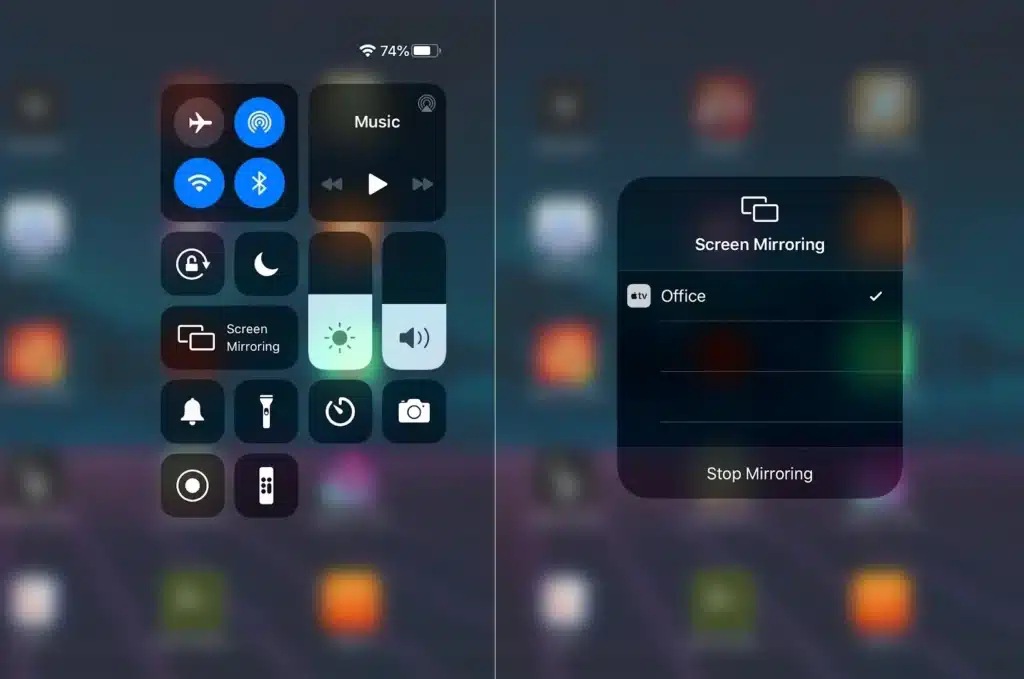 First, connect your iPhone to the TV by using an HDMI cable. Older TVs may require a VGA adapter instead.
Next, open the Control Center on your iOS device and tap the Screen Mirroring option. Your TV or streaming device will then appear in the list of devices you can mirror from.
When you want to stop mirroring, return to the Screen Mirroring option in Control Center and tap Stop Mirroring. Your iPhone will then go back to normal.
HDMI :
HDMI is the standard for connecting high-definition devices like TVs, DVD players, and video game consoles. It supports high resolutions of 1080p and 4K and has a wide range of audio formats.
Compared to wireless connections, HDMI offers more flexibility in displaying content on different devices. It's also easier to install and maintain.
It can transmit HD content without compression and maintains the integrity of the video signals. It also supports authentication and encryption of data carried by the cable.
HDMI is a digital interface that replaces analog solutions, such as VGA and audio jacks. It is the newest standard in HDTV and other related high-definition appliances.
It carries uncompressed, all-digital transfers of both video and audio signals, with up to 8 simultaneous channels of high-definition audio.