If you are wondering how to connect your TV to the home, then you are in the right place. There are several different methods of doing this, and you will have to find out which one is the best fit for you.
In this article, we will discuss some of the more popular options, including Google Cast, AirPlay, and HomeKit.
AirPlay of how to Connect my TV to the home:
AirPlay is a feature of Apple devices that allows you to stream media, like pictures, video, and music, to your TV. It works with several devices, including the iPhone, iPad, iPod, Mac, and TV.
However, there are some limitations. If you are not on the same Wi-Fi network as your TV, your AirPlay experience may be a bit more limited than you'd like.
There are a few things you can do to make the most of AirPlay. First, you can check your iPhone's Wi-Fi settings.
You can boost it if necessary to give you a better connection. Next, you can use your iOS device to control your television's volume, fast forward, rewind or pause a movie.
You can also turn your iPhone into a mirror for your TV. To do this, you need to connect your iPhone to the same Wi-Fi network as your TV.
Once you've done that, you can follow the same steps to make your iPhone's screen appear on your TV.
HomeKit:
If you have an Apple TV, you can connect it to your home using HomeKit. With the Home app, you can adjust your television's volume, switch inputs, and turn it on and off with a single tap. And, if you have Siri, you can control your TV with just a voice command.
To begin using HomeKit on your TV, you will need an iPad, iPhone, or HomePod. Additionally, your TV must be connected to your home Wi-Fi network. Also, some TVs will need a firmware update before they're supported by HomeKit.
You can add a HomeKit device to your Apple Home app by scanning the accessory's code with your iPhone camera.
If your TV doesn't have a QR code, you'll need to enter a setup code, which will be displayed after you complete the pairing process.
Once you've added your TV to the Apple Home app, you can start to assign it a room. For example, you might want to set the TV in the living room. The app also suggests scenes for you to choose from.
Google Cast:
Google Cast is a technology designed to connect your TV to the home. It is built into Chrome and works over Wi-Fi.
The device allows you to stream media to your TV from your computer or mobile device. Many apps can be used for this, including YouTube, Netflix, Hulu, HBO Now, Spotify, Plex, and Disney+. However, you may experience buffering or poor video quality.
This feature is available on Android 4.4.2 and higher. To use this feature, your device must be connected to the same Wi-Fi network as your Chromecast. Once the device is set up, you can tap the Cast button on your phone or tablet.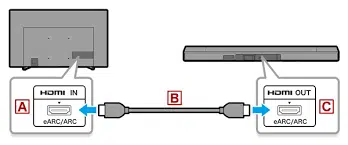 If you have an Android device, you can install the Google Home app. After you download it, you can control your Chromecast through the app. You can then select and cast your screen.
Also, You can also play music over Wi-Fi, using an app like Spotify or Pandora. You can also use multi-room speakers to control the music.
Android TV:
Android TV offers a simple user interface. Its focus is on discovery and interactivity. The system is also designed to make navigation easy. You can customize the home screen, install apps, and manage parental controls.
Before you start installing apps, you'll need to sign in to your Google account. This is the account that you will use to access your TV's Google Play Store.
If you don't have an account, you can create one. After you do, you'll need to connect your TV to your Wi-Fi network.
You can also set up a Google Home app to control your Android TV. To do this, go to Settings > Accounts and Sign in.
Using the on-screen keyboard, type in a custom name and press Enter. Your Google account will then be connected to your Android TV.
If you don't have a Google account, you can use a phone. This will allow you to access the Android TV's Google Play store and set up your home screen.