How to Pair Soundcore Life P2 Earbuds?
How To Pair Soundcore Life P2 Earbuds? The Soundcore Life P2 earbuds are a solid pair of wireless headphones that do a lot of things well. They're lightweight and comfortable and have a familiar aesthetic that echoes the Apple AirPods.
They're also a good choice for people who want a wireless audio experience with aptX and AAC Bluetooth codecs. However, they don't have multipoint Bluetooth connectivity.
1. Turn On:
Whether you're listening to music. Or podcasts, or taking phone calls on the go, Soundcore Life P2 will make it easy to stay connected. They're built to do a little bit of everything, which makes them a good choice for everyday use. However, to get serious about your audio experience, consider specialized earbuds such as those designed for workouts or travel.
To begin using the earbuds, open their charging case and take the right and left buds out. They'll turn on automatically, with a white light showing that they're ready to pair. To turn them off, press the multifunction button on either earbud for three seconds.
You can also manually power the earbuds off and on by pressing the button again. This is useful if you're having problems with one or both of the buds pairing to your device. You can also perform a factory reset to clear any problems with the earbuds.
To do so. Take the earbuds out of the charging case and hold both buttons. For three seconds until they flash red and then turn white. Once you've done this, the earbuds will be reset and ready to pair to your device. If the earbuds aren't connecting to your device. Check that Bluetooth is turned on and that both earbuds are in range.
2. Turn Off:
To turn off the earbuds, place them back into the charging case. This will automatically power them off and the LED indicators will flash red three times.
You can also manually power off the earbuds by pressing their multi-function button for three seconds. The earbuds will automatically power off when placed into the case. Or you can turn them off by manually pressing the multi-function button on one earbud.
While Soundcore Life P2 earbuds are excellent for listening to music. They don't excel when it comes to hands-free audio calls. The microphones on both earbuds aren't very powerful. Which can cause your voice to sound quiet and distant to the person on the other end of the call. They also lack a noise-canceling feature. Which can be problematic if you live in an area with a lot of traffic or street noise.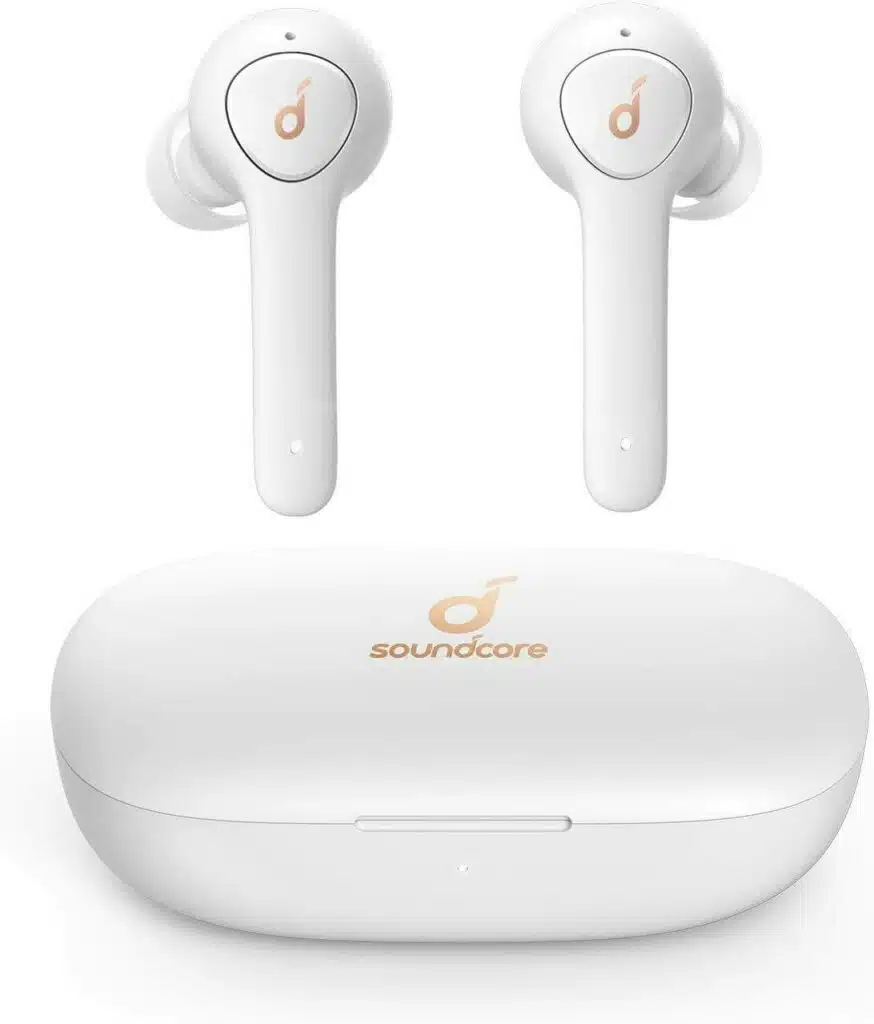 The earbuds also don't support mono mode, which is important if you use them for hands-free audio calls and other types of audio that require one earbud to be active at all times. While this isn't a big deal for most users, those who need a pair of earbuds that can be used in mono mode should consider another option. With all that said, Soundcore Life P2 earbuds deliver solid wireless audio for an affordable price. Bass is punchy and energetic, while trebles offer a good amount of clarity and detail. Mid frequencies, on the other hand, can be a bit muddy.
3. Pair:
With a plethora of true wireless earbuds crowding the market, it takes something special to stand out from the crowd. And that's exactly what the Soundcore Life P2 Mini earbuds manage to do with their feather-light, fuss-free design, impressive endurance, and sound quality that belies their price point.
They're also IPX7 waterproof and come with a large USB-C charging case that can recharge them up to 40 times on a single charge. This battery life is enough to get you through a few workouts or a day on the commute and then some.
Getting started is easy with the earbuds powering on automatically and going into pairing mode when you remove them from the charging case. You will then see the LEDs flash red three times and then light solid white to indicate they are paired.
If you're having trouble connecting or experiencing other issues, a factory reset is a simple solution. To perform a factory reset, place the buds in the charging case and press and hold their buttons until they flash red three times and then turn white.
There are plenty of other features that make the Soundcore Life P2 a great choice for everyday use. These include a convenient, hands-free voice assistant that can handle calls and even augmented reality headset support. Touch controls are mirrored on both earbuds, with play/pause and track skipping functions available on the left earbud while voice assistant and EQ modes are activated via the right earbud.
4. Reset:
If your Soundcore Life P2 earbuds don't pair or connect to your device, you may need to reset them. The earbuds can be reset by powering them off and then back on. This will force them into TWS connecting mode, meaning that the right earbud will automatically connect to the left earbud. Once the earbuds are in TWS connecting mode, you can connect them to any Bluetooth device.
You can also reset the earbuds by pressing and holding the multi-function button on both earbuds for 1 second. This will cause the earbuds to enter TWS connecting mode, but it won't remove any previous pairings with your device.
If you're having trouble connecting to your device with the earbuds, try turning off Bluetooth on your source device first. It would help if you also made sure that the earbuds are in a charging case when they're not being used. Once they're ready for use, remove them from the case and wait for the LED indicators to flash white. If you're using a Windows computer, open the Bluetooth settings and select "Soundcore Life P2". You may be asked to provide a passcode; type in 0000 if prompted. Once the earbuds are paired, you can play music or answer calls with them. You can also activate the voice assistant by short-pressing the touch panel on the right earbud twice.