How To Connect Wyze Camera To WiFi?
How To Connect Wyze Camera To WiFi? Wyze cameras have a wide range of features, including motion and sound detection, two-way audio, and night vision. They also have a 110-degree field of view and a 1080p resolution.
To connect a Wyze camera to WiFi, you will need a smartphone with the Wyze app, a USB port or power outlet, and an internet connection. The setup process should take less than five minutes.
Setup:
If you want to connect a Wyze camera to a new Wi-Fi network, you'll have to follow some simple steps. These include getting the camera ready for a new connection, ensuring that both networks have access to the internet, and transferring any important video files. In some cases, it may be necessary to change the password for your network to ensure that it stays secure.
First, you'll need to power on your camera and make sure that it's in setup mode. To do so, press the small button on the underside of the camera. You may need a toothpick or pin to do so, but it should make a chime sound when you're done. Next, open the Wyze app and tap the "+" icon to add a device. Select "Wyze Cam" from the list of available devices and follow the on-screen instructions to connect the device to Wi-Fi. You'll need to select a 2.4GHz Wi-Fi network, as these are the only ones that will work with a Wyze camera.
Once you've connected your Wyze camera to the new Wi-Fi network, you can start using it and enjoying all of its features. You'll be able to see live video from your home, monitor its status, and control it from anywhere in the world with the Wyze app. You can even share your camera with other users.
Troubleshooting:
If you're having trouble connecting your Wyze Camera to WiFi, there are a few things you can try. Firstly, make sure that the new network frequency is the same as the one the camera operates on. This can be confirmed by accessing the device settings and clicking on 'Device Info'. You can also try updating the firmware on your camera, as this can resolve certain connectivity issues.
Additionally, you may want to consider using a Wi-Fi extender or repeater in order to boost the signal strength in the area where your camera is located. You should also make sure that you're using the correct Wi-Fi password when reconnecting your device. If the issue persists, you can try moving your Wyze Camera closer to your router.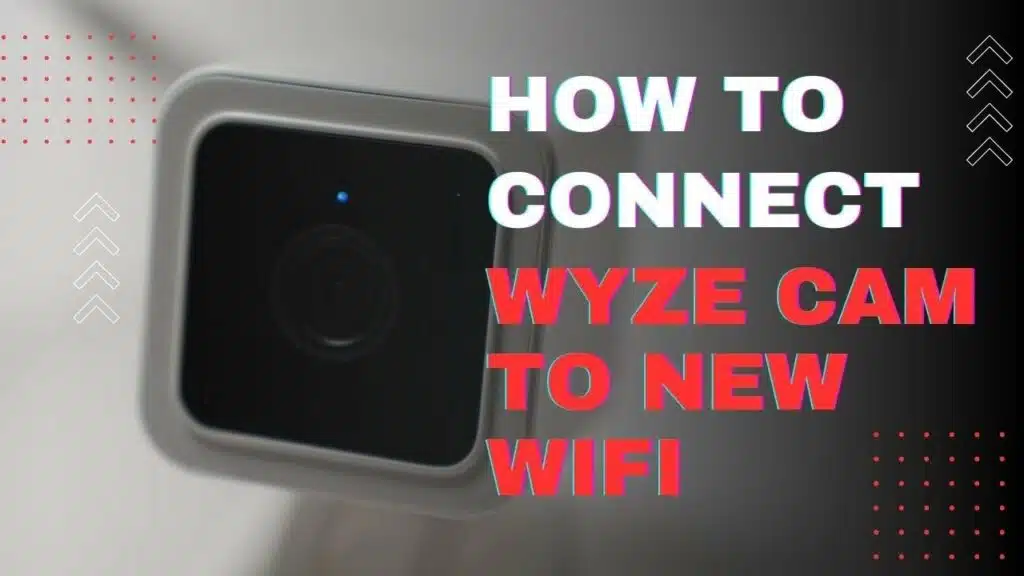 Lastly, it's always best to keep your Wyze Camera updated with the latest firmware. This will ensure that it has all of the latest features and improvements. In addition, it will improve overall stability and performance. You can update your Wyze Camera's firmware by logging into the app and clicking on the "Device Info" menu. Then, select the option to "Update Firmware" and wait for it to finish updating. Once the process is complete, you can try reconnecting your Wyze Camera to WiFi again. If the issue persists, you can contact the Wyze support team for further assistance.
Reconnecting:
If your Wyze Camera stops working, you can try to reconnect it by following the steps below. First, download the Wyze app and log in to your account or create one. Then, click on the three dots in the top right corner of the app to add a new device. Select "Wyze Cam" and follow the instructions to connect it to your WiFi network. The setup process may take a little while, so be patient!
You should make sure that your router and Wyze Cam are within close range of each other. If they are not, you can move your router closer to the camera or buy a WiFi repeater that essentially has 2 wireless routers inside of it to help extend the signal.
Then, make sure that the WiFi network you are connecting to is 2.4 GHz, as the Wyze Camera only works on this frequency. Also, make sure that the password on your WiFi connection is not too complicated.
Next, you will need to connect your phone to the temporary WiFi network and then scan the QR code on the camera. Be careful when scanning the code, as it can easily get distorted by glare on your screen. Once the camera has scanned the code, it will connect to your WiFi network and start working again.
Configuring:
If you want to use your Wyze Camera on a different network, you can easily do so by using the app. The process is simple, but you will need to follow a few steps. First, you will need to connect your smartphone to the camera via Wi-Fi. Then, you will need to scan the QR code on the back of your camera with the Wyze app. Finally, you will need to enter the new network's SSID and password. Once the process is complete, you will be able to view your camera's live feed on your smartphone.
You can also try using a speed test to see how fast your Wi-Fi connection is. This can help you determine if there are any problems with your Internet service.
If your Wi-Fi isn't working properly, you can also try rebooting the camera and router. You can do this by disconnecting them from the power outlet for 30 seconds to a minute, and then plugging them back in. This can often fix connectivity issues.
Wyze products require you to go through what seems like the installation process again when you change your WiFi network. This is due to the fact that the cameras do not have a feature that recognizes a new network and automatically switches over. Unless you factory reset your device, this will be the only way that you can change the WiFi network for it.