AnyDesk Network Error: Could Not Connect to AnyDesk Network?
Could Not Connect To AnyDesk Network? If you encounter this error, it is likely caused by network connectivity issues between the AnyDesk client and the remote computer. Ensure that the Internet connection is stable and reliable and that all device and network-level security solutions do not interfere with AnyDesk.
Restarting your network devices and adjusting your firewall configuration can resolve temporary connectivity problems. You can also contact AnyDesk's support team for more specialized guidance and assistance.
Network Issues:
An unstable internet connection, misconfigured firewalls, and general issues with a network can cause this error to appear. To troubleshoot this issue, try connecting to a different network. This can help determine if the problem is specific to your current network configuration or a compatibility issue with AnyDesk.
If you are unable to connect to a different network, try running a speed test on your internet connection. This will provide insight into your internet connection's stability and performance, enabling you to make informed decisions about how to proceed.
Another common solution to this issue is to flush your DNS cache on your Windows 11 PC. This is a simple process that can often fix problems with AnyDesk and other applications that use the same network resources. To do this, open Run using the keyboard shortcut, type cmd, and then execute the following command:
You may also want to consider consulting with a hardware technician or network administrator if you cannot resolve this issue through other methods. They can offer further guidance, assistance, and personalized solutions to your problems. Also, ensuring that you have the latest version of AnyDesk can help prevent network errors. Check for updates on the AnyDesk website or within the application itself. If there are any updates available, install them and then attempt to connect to AnyDesk again.
Firewall Issues:
A firewall might be preventing the computer from connecting to AnyDesk servers. If this is the case, it's best to temporarily disable your firewall and antivirus software. Once they're turned off, you can try again to connect to AnyDesk.
This message is typically shown due to a slow Internet connection, an improperly configured firewall, or a general network problem. To resolve this issue, try restarting your router and resetting the network settings. This will usually fix the problem. Alternatively, you can also try connecting to the remote computer using a wired Ethernet connection instead of Wi-Fi. Wired connections tend to provide more stable and consistent network connectivity.
Another possible reason for this error is that the remote side denied your session requests several times. If this is the case, you should ask the remote user to unlock logging and allow incoming connections on the computer.
If you're still experiencing problems, it's best to update AnyDesk to the latest version and see if that fixes the problem. Another option is to perform a clean boot on your computer. This will help you eliminate any third-party applications that may be causing problems with AnyDesk. You can also try running AnyDesk on a different device to determine whether the problem is caused by hardware or software. Lastly, you can try synchronizing your system clock to make sure the date and time are correct on both devices.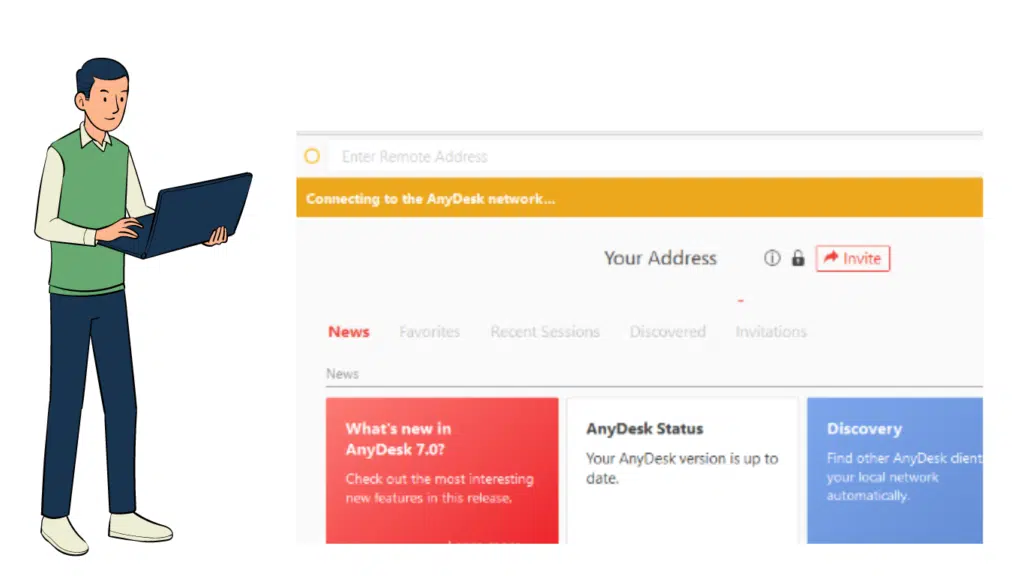 Internet Connection Issues:
If you're receiving the "This desk is not available" message, it's likely due to an unstable Internet connection or misconfigured firewall on both your computer and the remote computer. Try connecting to a different network and see if you're able to resolve the issue.
Ensure your computer has the latest available updates for its operating system. Older versions of software often have bugs that can cause them to malfunction and lead to errors. Visiting the official AnyDesk website or checking for updates from within the application itself can help you find the latest version and install it.
Disable any VPN or proxy software you're using. You can do this by visiting your preferred VPN or proxy provider's settings in the AnyDesk client. Disabling these tools can help you eliminate the possibility that they are to blame for the error message.
If the problem persists, you may want to consider reaching out to AnyDesk's support team for further assistance. Their staff is well-equipped to handle various technical issues and can provide you with personalized guidance to get the issue resolved as quickly as possible. They can also recommend further troubleshooting steps if necessary. You can contact them through the official AnyDesk website or by email. They can respond to your request almost instantly. They will be happy to assist you in any way they can.
Proxy Issues:
AnyDesk is a remote desktop software that offers users the ability to access and control a computer from a faraway location. This software is used by individuals and businesses alike to help with various tasks. However, sometimes the program may encounter issues that interfere with the user's experience. One such error is the "AnyDesk Network Error: Could Not Connect to Anydesk Network." The following guide will explore the reasons behind this error and provide steps to resolve it.
The first step to troubleshooting the AnyDesk Network Error is to ensure that you are using the latest version of the application. Developers release updates regularly to fix errors and improve compatibility with different systems and networks. You can check for updates by visiting the AnyDesk website or by opening the app and selecting the 3 lines shown at the top right corner of the screen.
Other common problems that can cause the AnyDesk Network Error include an unstable internet connection and a misconfigured firewall. If you are experiencing any of these issues, try restarting your router or modem by unplugging them from the power source for 30 seconds and then plugging them back in. You can also try connecting your device to your router directly using an Ethernet cable to get a more stable internet connection.
If you have tried all of these solutions and still cannot connect to the AnyDesk Network, it is recommended that you contact the company's support team for further assistance. They are well-equipped to handle technical issues and can provide you with personalized guidance to help you solve your problem.