How to Connect a CCTV Camera to a TV Without a DVR:
There are a number of ways to view security video footage from CCTV security cameras on a television. If you don't have a DVR or a video multiplexer, you can use an AV method to connect your CCTV camera to your TV.
This method uses an RCA adapter, which connects to the BNC cable connected to your camera. The RCA adapter is available at most electronic stores, or online at sites like Amazon. Just keep in mind that an RCA adapter won't support high-definition footage.
How to view live security video footage from a CCTV camera on a TV without a DVR:
If you have a CCTV camera that you'd like to view life, you'll need to learn how to connect it to a TV without a DVR.
This can be tricky, as some cameras may not have the option of recording footage or may require special software. In either case, you'll be unable to watch or review the footage without a DVR.
To connect the CCTV camera to a TV without a DVR, first, turn it on and select the correct video input on your television.
The simplest way to connect your CCTV camera to a TV is to use a composite connection. To do this, you'll need an RCA converter to plug into the BNC cable on the camera and the AV input on your TV. You can find one of these at any electronics store.
However, it's important to remember that composite cables do not support HD signals. If you want to watch HD footage, you'll have to use an HD camera or invest in a separate video recorder.
Another option for viewing CCTV footage is by using a VCR. You can connect the VCR to your TV using an RCA cable.
Then, you can adjust the channel on your TV to channel 4 or 3, insert a VHS tape, and press record. These methods are not recommended for IP cameras, which require third-party devices for viewing.
Using a video multiplexer:
A video multiplexer, or mux, is a device that records signals from several CCTV cameras on one tape.
It is able to split a single monitor into different areas and can also record to a VCR or monitor. Video multiplexers can be standalone video processors, or they can work with an existing DVR or VCR. Some also allow for remote viewing.
In addition to supporting various types of CCTV cameras, video multiplexers are also useful for surveillance DVRs that lack a spot monitor output.
They can also be used to create a multiple display monitor with different camera screen layouts. They are also compatible with HDMI over powerline kits, which transmit video signals through a standard power outlet.
There are many types of multiplexers, including dual, quad, and quadruplex models. Some are simpler than others, while others are more advanced.
Quadriplexers, for instance, use four camera connections to split a screen, allowing it to show and record different images from different cameras simultaneously.
Also, Some video multiplexers can also record to the cloud, which is convenient but can be expensive. Some CCTV systems can record to a hard drive, which is an affordable option.
Some security camera manufacturers will offer cloud storage services, allowing you to store your videos and other files on a separate server.
Using a USB cable: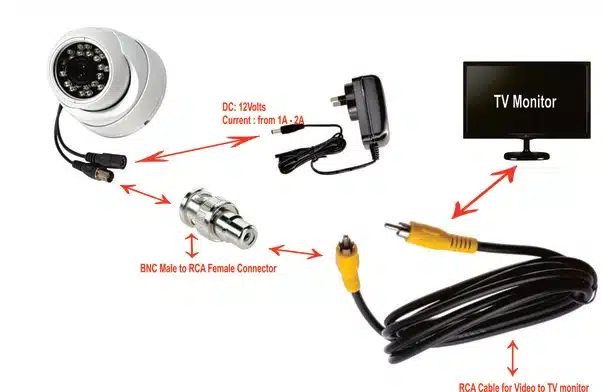 The first step in connecting a CCTV camera to a TV without a DVR is to install a DC power adapter. This adapter is included with the CCTV camera you purchase.
You will need to plug the adapter into a suitable electrical outlet to turn on the camera. The cable must be compatible with the model of the camera you have.
Once you have connected your CCTV camera to a TV, you will be able to view the live feed and view recorded footage.
This method is great for those without DVRs and for people who don't want to set up a separate surveillance system. However, if you don't want to spend the money on a DVR, you can use a Network IP camera instead.
Another way to connect a CCTV camera to a TV without a DVR is through a VCR. With an analog CCTV camera, you can connect it to a TV using an RCA cable and set the camera to channel three or four.
You'll then need a VHS tape to record the video. Unlike an IP camera, the analog CCTV camera doesn't have a DVR. To view the video feed on an IP TV, you will need a third-party device.
If you don't have a DVR or a VCR, you can still use a CCTV camera without a DVR if you have a USB port.
You can also use the same cable to connect the CCTV camera to an IP camera. Make sure to remove the power supply from the camera before you start.