How to Connect Google Nest Mini to Your Wi-Fi Network:
If you have installed the Google Nest Mini, you need to connect it to your wireless network. You can use the Google Home app to do this.
To do this, make sure your Nest Mini is close to the router. If it is not, unplug it for about two minutes. Then, connect it to your Google Home app and it should work properly.
Setting up Wi-Fi on Google Nest Mini:
Setting up Wi-Fi on Google Nest Mini is essential to get the most out of this smart speaker. Without it, the speaker will only function as a Bluetooth speaker and won't offer many features.
For example, it will not respond to "Hey, Google" voice commands. To get this set up, follow the steps below.
First, make sure your Mini is close to your Wi-Fi router. If it's too far away, move it closer or try to move it into an area with fewer electronic devices.
If that still doesn't work, consider upgrading your router or switching to a mesh network.
Secondly, you need a stable Wi-Fi connection to use your Nest Mini. The Nest Mini doesn't have an ethernet port, so you have to make sure your wireless network has a stable signal. Then, set up Bluetooth to pair your speaker with your mobile device.
Next, make sure your Google Home app is updated and connected to your home WiFi. After you've done that, your Google Nest Mini will ask for your WiFi password.
After a few seconds, it will say, "Connecting to WiFi". You may be asked to enter some private information, such as the name of your home Wi-Fi network, as well as details about your home and your partners.
If you have a Wi-Fi network at your home, you can set up your Nest Wifi in minutes. You can even set up a guest network and share the Wi-Fi password with your guests. It also allows you to prioritize traffic by type, like video conferencing or gaming. In addition, it gives you detailed information on how your network is performing. This will help you maintain a private, helpful home.
Setting up Broadcast:
If you've ever wondered how to set up a broadcast on your Google Nest Mini, there are a few steps that you can take to get things going.
First, you'll need to sign in to each device and connect them to your Wi-Fi network. Once they're connected, you can start to set up broadcasts.
Broadcast is a useful feature that lets you announce messages to your entire household. It also lets you use your smart speakers like an intercom system.
For example, you can use it to play a message to the family when you come home from work. Or, you can use the feature to play everyday sounds.
Setting up broadcast allows you to send messages and voice messages to other devices within your home. You can also use this feature to talk to your home assistant using the speakers.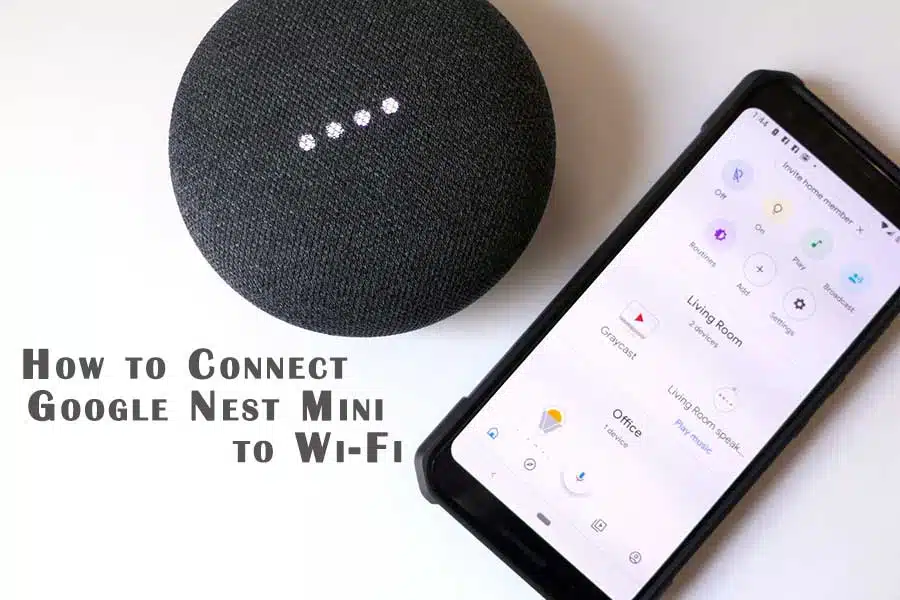 You can also use Google Assistant to send voice messages to your other Google Home devices. If you have more than one Nest Mini, you can use them as a group or separate.
To set up a broadcast on Google Nest Mini, you first need to link the devices to your Google accounts.
Once you've done that, you'll need to make sure the devices are on the same Wi-Fi network. Make sure to turn off Do Not Disturb mode on the Google Nest Mini before you do this.
Resetting Google Nest Mini:
If you have a Google Nest Mini, you might be wondering how to reset it. You can do so by unplugging it from the power source or by moving it to a different room. To do this, you need to make sure that the Nest Mini is unplugged for at least 10 seconds.
When you plug it back in, you should see four LED lights appear on its top. Then, you should hear an announcement saying "Welcome to Google Home!"
To do this, you need to press and hold the bottom button for five to ten seconds. You may want to repeat this several times until you hear a confirmation beep.
If you cannot hear any sound, try pressing the bottom button again. After ten seconds, the device should be reset and ready for use.
Next, you need to connect the Nest Mini to the WiFi. You will need to hold the center button for at least five seconds. Then, turn off the microphone. Once you have done this, you can turn on the Nest Mini. It will announce "Welcome to Google Home…" and then tell you to set up the Google Home app.
The second generation How to Connect Google Nest Mini has a hole for wall mounting on the bottom. It also uses a USB cord and proprietary power adapter to power the device. If you are using the first generation of the Google Home Mini, you should find a reset button next to the USB port.
However, if you have the second generation, you will not see this reset button. If you cannot find the reset button, press the center button for about 10 seconds and you should be able to reset your device.