When using your mobile phone on a large screen, you may wish to project its display so you can see more at once. This can be done in a few different ways depending on the make and model of your TV and mobile device.
For example, many Samsung Galaxy devices support DeX, which provides a desktop experience running from your smartphone. All you need to do is hook up with a USB data cable.
1. HDMI Cable How to Connect Mobile to TV Monitor to Watch:
The HDMI Cable is an important device to have when you want to connect your mobile phone to the TV monitor. This cable comes in a variety of lengths, materials, and specifications to suit your needs. It is best to use an HDMI cable with the latest technology, such as HDMI 2.0, for higher video resolutions and faster transfer rates.
For Android phones, MHL is a common method for connecting to the TV. You can purchase an MHL adapter to connect your mobile phone to the TV, and then plug the cable into the TV.
MHL requires a power connection to work, so you'll need a separate charger for your mobile phone.
For iOS devices, you can use a screen monitoring app to connect to the TV. Make sure your mobile phone and the TV are on the same Wi-Fi network and then open the screen mirroring app. You may be prompted to enter a code or scan a QR code to start mirroring your phone on the TV.
2. MHL Cable:
MHL (Mobile High-Definition Link) is a standard that lets you physically connect your mobile device to your TV for video and audio output.
In addition to supporting up to 1080p and 7.1-channel digital multi-channel audio, MHL also sends control data and provides power.
While the MHL specification is relatively new, many manufacturers have already implemented it. The MHL website has a list of devices officially certified to support the protocol.
The most common method of connecting a phone to a TV is via an MHL cable or adapter that has an HDMI end and a micro USB end.
The micro USB end is connected to a charger, and the HDMI end goes into an MHL-compatible TV or monitor.
Some Android smartphones and Samsung devices with DeX technology include an MHL port built into the device, while other devices require a separate MHL adapter to use the port.
Unlike HDMI, MHL requires only five pins instead of 19, and it shares the same USB port that's used for charging and data transfer.
3. USB Cable How to Connect Mobile to TV Monitor to Watch:
A USB cable can connect your mobile device to the TV monitor for watching videos and images. You can get this type of cable in the store or online.
The cable can be of varying lengths, but a standard spec is 5 meters. The data rates used by the cable can reach up to 480 Mbits per second.
However, the maximum distance that the cable can operate is limited due to copper losses and attenuation.
Most modern Android smartphones come with a USB port and can support screen mirroring or screencasting via this method.
To use this option, you need to enable it on your phone or tablet and make sure that both the mobile device and the TV have the same Wi-Fi network to pair them.
Unlike wireless casting, the connection between your mobile device and TV using this method has low latency. This makes it perfect for gaming and streaming movies. It is also ideal for situations where wireless signals are not reliable or available.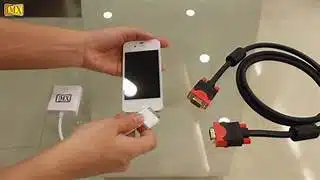 4. Screen Monitoring:
Many smartphone devices now come with DLNA (Digital Living Network Alliance) compatibility. This allows a phone to wirelessly stream all photos, music, and videos to a TV via a compatible app. It's easy to connect this way, though the process varies depending on the device and TV brand.
Alternatively, some Android smartphones support Samsung's DeX feature, which creates an entire desktop experience from the handset. It lets you run all of your favorite apps and even access your gallery without connecting to a computer.
Most phones that come with a USB Type-C port (also known as "USB-C") also support screen mirroring. This method offers low latency that's ideal for gaming, streaming movies, and content, or using business apps.
It's particularly helpful if you have a weak wireless signal or don't want to use Wi-Fi. Screen monitoring is an essential tool for employers who wish to track the performance of their workforce.
It helps companies identify any inappropriate behavior that could hinder productivity or compromise data security.