There are several ways to connect mobile to TV wirelessly. You can use Wi-Fi, DLNA, or Bluetooth to connect your phone to a TV.
Apple iPhones and iPads support screen mirroring with an AirPlay 2-compatible TV. You can use this to play media, browse the web, and more on your big TV screen.
Screen Mirroring:
Screen mirroring lets you show what's on your phone or tablet on a TV. It's a great way to share photos and videos with friends. It also works well for presentations and huddle spaces in the workplace.
There are several ways to connect a mobile to a TV wirelessly. Wired connections offer a straightforward and reliable solution but can be limited by the length of the cable.
Wireless options eliminate the need for cables and are more convenient. These include Bluetooth, Miracast, and DLNA.
Some smartphones come with a built-in screen mirroring feature that can be used with most smart TVs. This can be found in the Settings app on your phone or tablet.
To use the feature, you need to be on the same WiFi network as the TV. You can also connect your iPhone or iPad to a TV using an Apple Digital AV Adapter or HDMI to USB-C adapter. The video stream is generated on the phone and sent to the TV in real time.
How to Connect Mobile to TV Wireless DLNA:
The Digital Living Network Alliance (DLNA) is a set of standards for home media streaming. While it's not as widely used as, say, Chromecast, DLNA is an option for wirelessly transmitting photos, videos, and music to your TV from a smartphone or tablet.
DLNA is designed to make sure that the various gadgets in your home can work together easily. You'll find the technology in lots of modern TVs, Blu-ray players, storage devices, and media boxes, along with smartphones and tablets.
In fact, if you own any of Samsung's SmartView devices, for instance, they use DLNA technology to share content with each other.
In order to push video content from a Windows 7 PC to a DLNA-certified TV using Play To, you'll need a TV that carries the Microsoft logo as a DLNA Display Device (DMR). You can find a list of those TVs here. However, this isn't always an option if you want to watch DRM-protected content.
Wi-Fi How to Connect Mobile to TV Wireless:
Also, there are a few different ways to connect your phone wirelessly to a TV, depending on the type of phone and TV that you have.
Some methods require a proprietary app while others are easy for anyone to navigate. Some of the most popular options are Google Chromecast, Android Screen Mirroring, and DLNA.
DLNA is a media file-sharing program that lets you stream music, videos, photos, and more to your TV without the need for additional hardware. It's supported by most devices and most smart TVs.
Many smartphones and tablets support the MHL (Mobile High-Definition Link) standard, which allows video, audio, and power to be transmitted through a single micro USB cable.
Most modern TVs have HDMI ports that support this, so you can simply plug the cable into the port to begin streaming content. For non-smart TVs, you can pick up a Miracast dongle for cheap that will add the necessary capabilities.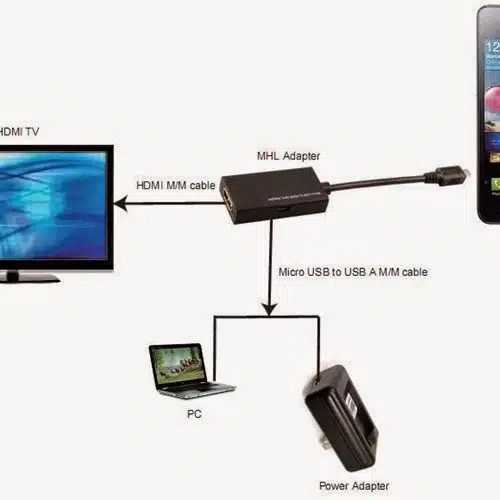 Bluetooth:
Also, Bluetooth is a wireless technology that creates a personal area network (PAN) without the need for internet or mobile service. It allows you to connect devices like your smartphone, headphones, and speakers to your TV.
This way, you can enjoy your favorite music and movies or view photos and videos on a larger screen.
Some older phones may not support Bluetooth, but you can still connect them to your TV using a USB cable. To do this, make sure that your phone and TV are compatible and that the cables are connected properly.
There are also many other ways to connect your phone to a TV. Such as streaming with a Chromecast or Apple TV. However, these methods are not as easy as connecting with wireless technologies.
If you are unable to connect your mobile to a TV. Book a Carlcare service appointment and our technicians will help you.
Our service center is located in Hyderabad and caters to customers from all popular brands, including Infinix, Tecno, Itel, Oraimo, and Syinix.