The Samsung Galaxy Buds are among the best true wireless earbuds. They have many features that make them the perfect choice for music lovers.
They are also compatible with different devices, including Apple ones. However, connecting them to your laptops can be tricky.
How to Connect Samsung Earbuds to Laptops Windows:
If you have a laptop running Windows 10 or 11, you can easily connect Samsung Earbuds to it via Bluetooth. This method is also compatible with Mac computers, but you may need to tweak the process slightly.
First, you'll need to put your Galaxy Buds into pairing mode. This can be done by opening the case and holding both touch pads.
Next, go to your Windows laptop settings (or press the Windows key + I) and click on Device > Bluetooth & other devices.
This option will enable the pairing mode on your computer and should instantly detect your earbuds. Once paired, they should default to this laptop when you turn them on again.
How to Connect Samsung Earbuds to Laptops Mac:
Samsung Earbuds are compatible with a wide range of devices, including laptops. The connection process is a simple one that requires only opening the case and entering pairing mode.
The earbuds come with touch sensors that you can press and hold. After pressing the sensors, several beeps should indicate that you are in pairing mode and ready to connect them to your device.
If you are using the headphones for the first time, you may need to open the case before you can enter pairing mode. Once you do, the earbuds should show up in your Bluetooth menu.
The Samsung Galaxy Buds Live earbuds are a little different than other Bluetooth headphones. They feature a "Dual Audio" feature that allows you to pair two pairs of buds at once, for synchronous listening.
Android:
Galaxy buds are great headphones with plenty of active features. They come with Bluetooth support, active noise cancelling (ANC), and power-saving modes.
They're also compatible with many Android phones, laptops, and PCs. And they have excellent sound quality for their price range.
But if you're not using Samsung's own smartphones, they can be more difficult to connect. You may have to use a USB dongle if your system doesn't have Bluetooth capabilities.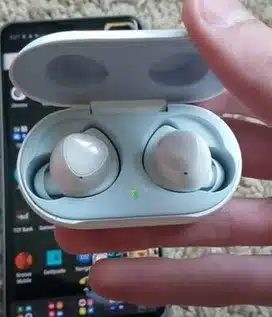 To connect them to a PC, first turn on the earbuds' pairing mode. That's easily done by placing them in their case and holding down both touchpads until you hear a series of beeps.
Your PC should then instantly recognize your earbuds when you bring them near it. If they don't, restart your computer and try again.
iOS:
If you have a Samsung Galaxy phone and you're running iOS, you can connect your Samsung Earbuds to your laptop. It's a really great way to listen to music or take phone calls on the go.
You can also use the Samsung Galaxy Buds app to change settings, such as noise cancelling or ambient sound mode. However, there are a few things to keep in mind.
First, you'll want to make sure that your earbuds are in pairing mode and they're charging. To do that, put them inside the case and close it for about five to six seconds.
When the lid is opened again, your earbuds will be automatically spotted by the laptop and a list of nearby devices will appear.
Once you see the Samsung Buds in that list, click "Connect". This will establish a Bluetooth connection between your laptop and Samsung Earbuds and your audio should play through them as long as the Bluetooth connection is active.