A lot of Samsung TV users are having trouble connecting their devices to the internet. If you are one of them, here is how to fix it.
The first thing you can try is to connect your Samsung TV to a wired connection. You can do this by plugging an Ethernet cable into the back of your TV.
Setup:
Connecting your Samsung TV to the Internet gives you access to a wide range of content. This includes streaming movies and television shows, watching YouTube videos, and chatting on social media. You can also play games and download apps from the TV.
One of the easiest ways to connect your Samsung TV to the Internet is over WiFi. This allows you to connect your TV to the internet at a wider distance and without using trailing wires throughout your room.
To get connected over WiFi, use the remote control to find the Menu, then Network Settings, and then Set Up a New Connection. Select the WiFi tab from your router that contains the name and password for the network you want to connect to.
If you can't connect to a wireless network, there may be a problem with your wireless router or the password that you're using. To fix this issue, try moving your wireless router closer to the Samsung TV or get a Wi-Fi extender for it.
You can also run a diagnostic test on the TV to find out what's causing the problem. This test will check the connection status, IP address, DNS, and gateway. It will also check for any network interference that could be preventing the TV from connecting to the Internet.
Troubleshooting:
Also, If you notice that your Samsung TV isn't connecting to your Wi-Fi network, there are a few things you can try to troubleshoot the issue. These include resetting the Samsung TV's network settings and checking your router's MAC address.
If this doesn't solve the problem, it may be time to contact your internet service provider for further assistance. There are a few possible causes for the connection issue, including outdated firmware and router errors.
The first thing you should do is check if your WiFi network is still working by logging in to your router's landing page on your phone or computer. It's easy to do and will give you a sense of whether your router is functioning correctly or not.
You can also change your DNS server number or IP address to see if that resolves the problem. Often this will make your connection more reliable.
One final way to fix a Samsung TV connection problem is to do a full restart on the TV itself. This is a simple and quick test that will likely get the TV back online without having to mess with a lot of other settings.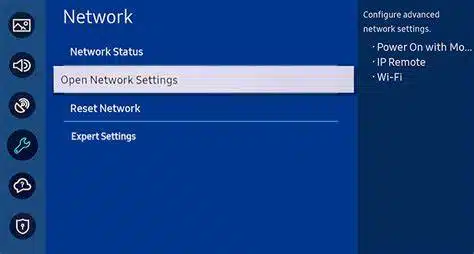 After a power cycle, you should be able to connect your TV to the Internet and watch YouTube videos or streaming services. If the problem persists, there may be a more serious issue with the TV.
Conclusions:
Samsung TVs are among the most well-rounded models on the market, and they're a great option for most buyers. They aren't as cheap or as powerful as competing brands, but they still offer excellent performance and a range of features.
If you're using a Samsung Smart TV, it's important to make sure that your WiFi is working properly. To do this, move your router closer to your TV and check the strength of the WiFi signal.
Some WiFi routers can become too weak over time and can cause network connectivity issues for devices connected to them.
To prevent this from happening, you can either change the wireless encryption method your router uses or upgrade to a more stable version of WiFi.
You can also check if you're using the correct password for your WiFi connection. If you're unsure of what the password is, it's best to contact your internet service provider or Samsung customer support for assistance.
Another way to connect your Samsung TV to the Internet is through a mobile hotspot. This can be a helpful alternative if you don't have a WiFi router or can't get a good connection to your home router.
You'll need to set up the hotspot before you can use it, but once you have it, you can easily access all of your internet-based content from your mobile device.