How to Connect Sky Box to Surround Sound System?
How To Connect Sky Box To Surround Sound System? The Sky Q box has a number of connectivity options. One option is to use an optical cable (Toslink).
All Sky boxes have an optical port and most soundbars come with an optical input. Optical connections are high quality and transfer Dolby Digital audio. This is a great choice for people who prefer not to use HDMI ARC ports.
HDMI:
If both your TV and surround sound system have HDMI ARC ports, you can use them to connect them. Simply insert one end of an HDMI cable into the Sky box and the other into an available HDMI ARC port on your speaker system. Audio from the Sky box will then be through your 5.1 speakers.
You can also use digital/optical cables to connect your Sky box to a surround sound system. These cables are much simpler and faster to install, and they provide high-quality connections and audio reproduction.
Before connecting your Sky box to a surround sound system, check the back of the receiver to see what types of audio inputs are available.if your surround sound system doesn't have an HDMI port.
If your speaker system supports Dolby Atmos, you can also connect it to the Sky Q box via HDMI. However, you may need to purchase a HDMI extender for this setup. The Echo Studio, a five-speaker device from Amazon that was designed specifically for home entertainment systems, pairs best with the Sky Q box via Bluetooth.
Optical:
Optical audio connections aren't as common these days, but they're still a great way to get surround sound from your TV and home theater system. They're also very easy to set up. Just plug one end of the optical cable into the input jack on your TV and the other into the output jack on your home theater system or speaker system.
If you want to connect your Sky Q box to a surround sound system using an optical connection, first locate the optical output on your television. This will usually be on the back of your television, near where all the other outputs are located. Next, take the covers off both ends of the optical cable. These covers are designed to protect the delicate optical fibers in the cable. Once you've removed the covers, you can plug one end of the cable into the optical output on your Sky Q box and the other end into the optical input on your speaker system or receiver.
While many users have reported success using an optical cable to connect their Sky Q box to a surround sound system, it's important to note that Sky only supports Dolby Digital over HDMI and not optical. As a result, you will likely need to connect your Echo Studio speakers to a 4k Fire Stick or Cube via Bluetooth to access Dolby Atmos.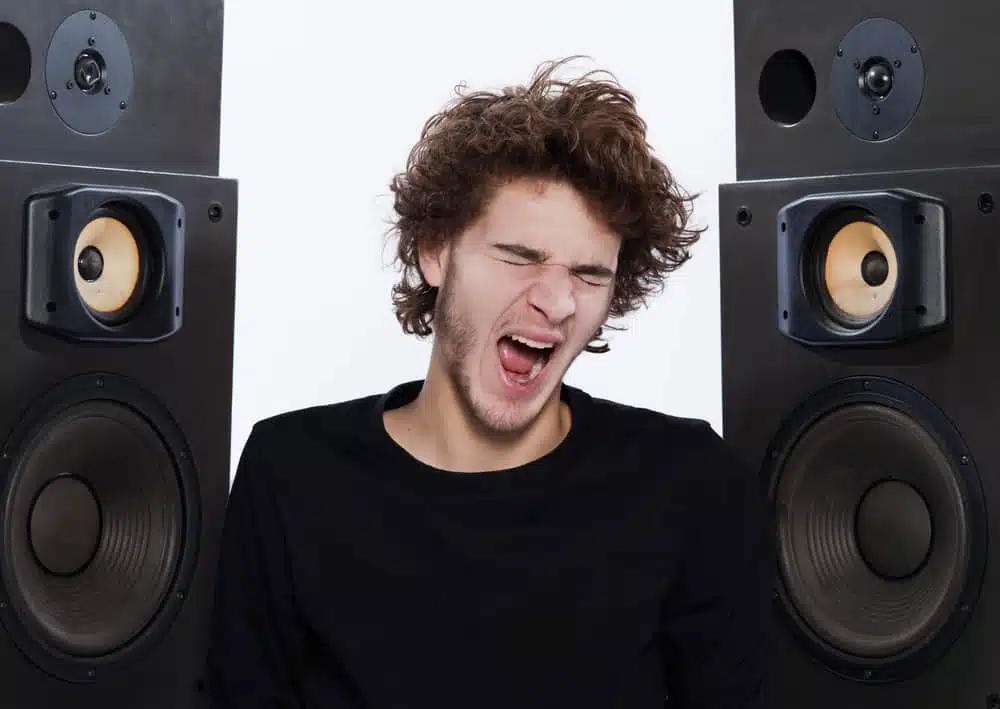 Red & White Phono:
If you don't want to spend a lot of money on a fancy surround sound system, you can still connect your Sky box and Soundbar using an inexpensive cable. A red and white phono cord, also known as an RCA cable, can transmit analog audio signals between your Sky box and your receiver. This type of connection is a common one for connecting high-fidelity equipment, such as DJ mixers. You can find these cables at any store that sells electronic devices. Check the back of your home theater receiver for an RCA input. These are usually Aux or Tape In. If you don't see an RCA input, your receiver may not support this type of connection.
If your Sky Q box supports Dolby Atmos, you can use an HDMI connection to connect it to a surround sound system. However, the Echo Studio doesn't have an HDMI port, and Sky recommends pairing it with a 4k Fire Stick or Cube via Bluetooth instead.
If you don't have an HDMI output on your TV or home theater receiver, you can purchase an RCA-to-optical digital adapter at most electronics stores. You can also find these adapters at online retailers. Regardless of which method you choose, make sure that both your TV and home theater system support HDMI ARC. This feature will provide you with the best sound quality possible.
Bluetooth:
If you have a newer iPhone or other device that no longer has a headphone jack, it can still connect to your home stereo system via Bluetooth. However, you may need to purchase an adapter for this purpose. Depending on the type of audio adapter you choose, it can be simple to hook up your phone. It worth pointing out that some Bluetooth devices. Are designed So you can create a surround sound setup that is ideal for large rooms.
The Sky Q box is a set-top box that enables you to watch high-definition television programming. It supports a variety of audio formats, including Dolby Digital and Dolby Atmos. It also features voice control and is compatible with Alexa. You can use it to watch a movie, TV show, or sports game.
Although you can connect the Sky Q box to a soundbar using an optical cable, this method isn't ideal for Dolby Atmos. Dolby Atmos requires HDMI, not optical, to achieve the best audio quality. If you're looking to get Dolby Atmos on your TV, try pairing your Sky Q box with a 4k Fire Stick/Fire TV via Bluetooth. This way, you can experience Dolby Atmos without having to invest in an expensive HDMI cable.