How to Connect TP-Link Extender With Jio Fiber?
How To Connect TP-Link Extender With Jio Fiber? Jio fiber WiFi range extender is a device that helps you to fix signal quality & coverage issues. You need to install and place it correctly to get the maximum results. You can monitor the extender device status by using the Jio app to manage it.
It has a decent internet speed on both 5 GHz and 2.4 GHz bands. It also has three antennas for a large wireless range.
1. Turn on the Extender:
If you're having trouble with your wireless network connection, a TP-Link extender may be able to help. These devices are designed to amplify the Wi-Fi signal and transmit it evenly throughout your home. However, it's important to know that they can't outperform your base Internet connection. This means that if you have a 100-MBps connection, you can't expect to get 800 MBps from your range extender.
You can connect a TP-Link router extender to your existing wireless network by using WPS technology. To do this, press the WPS button on your router (it must be represented by two circular arrows) and then press the pairing button present on your extender device. Once the connection is successful, the indicator lights on both devices will stabilize and your extender will start repeating the wireless network signal.
After enabling the Wi-Fi signal on your TP-link extender, you can log in to its configuration interface and set its network name and password. In addition, you can also enable the MAC wireless filtering feature to block devices from accessing your TP-Link extender. This will help you prevent uninvited guests from using your wireless network. To do this, you will need a computer with an internet connection and a web browser. You can download the Tether app from the Google Play Store or App Store.
2. Connect the Extender to the Jio Modem:
There are many different types of extenders available on the market, but the TP-Link RE305 is one of the best options for Jio Fiber. It offers a good internet speed and a decent wireless range, so you can use it to eliminate dead spots in your home or office.
To connect the Extender to your Jio fiber router, first plug the LAN cable into the LAN port on the Jio modem. Next, plug the other end of the Ethernet cable into the WAN port on the Extender. Once the Extender is connected to the Jio fiber modem, it should automatically configure and start working.
If you have trouble connecting the Extender to your Jio Fiber router, you may need to change some settings. For example, you may need to change the network name and password on your Jio router. You may also need to disable bridge mode on your router to allow the Extender to work properly.
After you've configured the Extender, you can begin using it to improve your Wi-Fi signal. Make sure to place it in a location with a strong signal, and monitor the WiFi LED light on the Extender to ensure that it's functioning properly. If the WiFi LED is Solid Green, it means that the Extender is properly connected and providing a good signal for your wireless devices.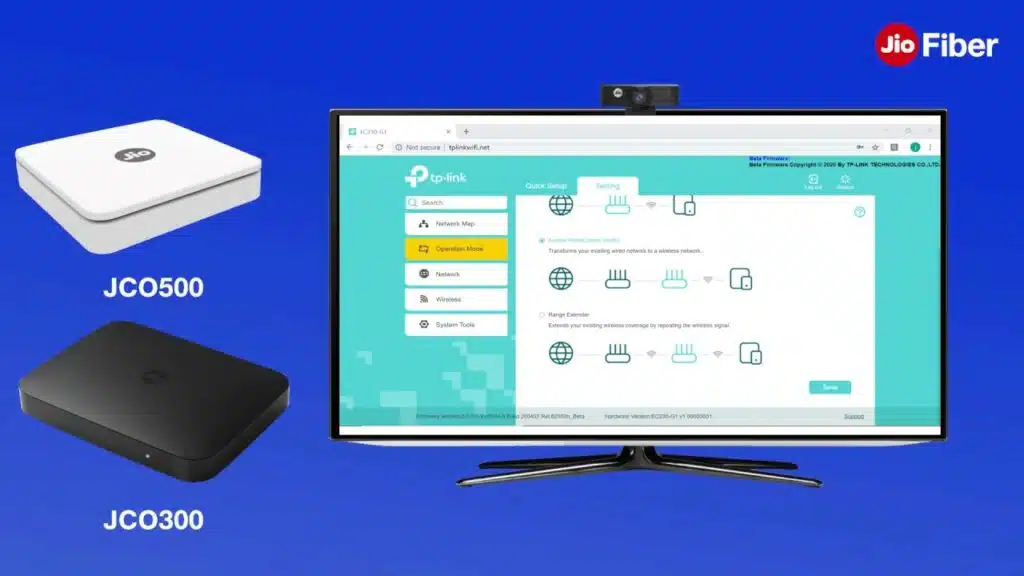 3. Turn on the Jio Fiber modem:
If you're having problems with your CCTV DVR, there are a few things you can try to fix the issue. First, make sure the DVR is connected to a power outlet and that all cables are securely connected. You should also check that the cables are running a proper distance from wall outlets and other devices that could induce interference. Once you've made sure everything is in working order, you can then proceed to test the connection between your Jio Fiber box and the CCTV DVR.
To start, you'll need to log in to the router control panel using the default username and password of "admin". Once you've logged in, you can access your router's settings. From here, you can change your wireless SSID network name and password, change your default gateway address, enable MAC filtering, and set up port forwarding.
The router that comes with Jio fiber is a dual-band router that offers Gigabit internet speed and a decent wireless range. It's a good choice for anyone who wants to use the internet with a low-data plan. However, the router is limited in functionality and lacks many of the features that come standard with other routers. For example, it does not have a media server or file-sharing capability. Fortunately, there are ways to increase the Jio fiber router's coverage area with the help of an extender.
4. Turn on the Extender:
When you need to extend the wireless range of your Jio Fiber WiFi router, a Wi-Fi repeater is the best option. These devices are designed to increase your WiFi coverage without affecting the internet speed over a long distance. You can even use them as a backup in case of a power outage. There are many different types of Wi-Fi extenders on the market, so it's important to choose one that will fit your needs.
If you're looking for a Wi-Fi extender that will work with Jio Fiber, the TP-Link RE305 is a great option. This device offers a decent internet speed of up to 1200 Mbps, and it can be connected to your Jio Fiber router by wireless or LAN cable. It also has an intuitive app that allows you to monitor and change your router's settings from anywhere in the world.
Another great option is the TP-Link RE200. This dual-band extender offers a wireless range of up to 10,000 sq. ft., and it can be connected to your Jio Gigabit router via a LAN wire. It also has a Gigabit Ethernet port for connecting devices like gaming consoles and Blu-ray players to the Internet. And it works in AP Mode, which turns the Ethernet port into your own personal Wi-Fi hotspot to share the Internet with multiple devices.