How to Connect Your Phone to Your TV:
If you're looking for a way to connect your smartphone to your TV, you're in luck. There are numerous ways to do so, including AirPlay and Mirroring. However, the easiest route is to use a Wireless display adapter.
USB cable How to Connect your Phone to a TV:
It's easy to connect your phone to your television using a USB cable. Using a USB cable to display your smartphone's screen on your television has several advantages.
The most obvious is that you can easily watch videos and photos on a bigger screen. This is particularly useful when you live in an area with poor wireless connectivity.
Another cool thing about this type of connection is that you can even use your phone as a remote control. Of course, you need to buy a USB-to-TV cable in order to do this, but you will be pleased to know that you can use this cable to control your TV as well.
You can also use the USB connection to transfer files from your phone to your TV. In particular, this is useful if you have a smart TV. Some TVs support file transfers via DLNA.
Wireless display adapter:
If you have an Android or Windows 8.1 smartphone, then you can use a Wireless Display Adapter to connect your phone to your TV.
The adapter will send all your screen activity to your TV, including videos, pictures, and apps. You can also use it to project menus and other information onto a bigger screen.
There are a few different types of wireless display adapters. These include Google Chromecast, Microsoft Wireless Display Adapter, and IOGear SharePro. Each of these is designed to be compatible with a wide range of devices.
Wireless display technology uses Miracast to broadcast images and videos from your computer, phone, or tablet to a television. The Miracast standard creates a peer-to-peer network that eliminates the need for a router.
Most Android and Windows devices come with Miracast already built in. Some older smartphones must be updated.
AirPlay How to Connect your Phone to a TV:
AirPlay is a wireless protocol that allows you to stream your iPhone's content to your TV. You can play videos, audio, and more. With the right tools, you can easily stream your phone to your TV.
There are a number of ways to do this. You can use a third-party app, or you can use Apple's own screen mirroring feature. If you're using a third-party app, make sure you select the best option for your specific needs.
To connect your iPhone to your TV with the screen mirroring feature, you need to turn on the device, and you may need to boost the WiFi signal. The built-in screen mirroring feature will show the contents of your phone, but it's not as full-screen as you might think.
AirPlay is one of the easiest ways to share your screen with your television. You can stream your music and video to your TV, and you can even control your TV's volume with your iPhone's remote.
However, it's important to note that AirPlay can be a little slow during certain games, so you might want to consider another solution.
Mirroring How to Connect your Phone to a TV:
Screen mirroring is a feature available on many phones and tablets. It can be useful for presentations and social media feeds. However, it may drain your phone's battery. There are ways to turn off the feature.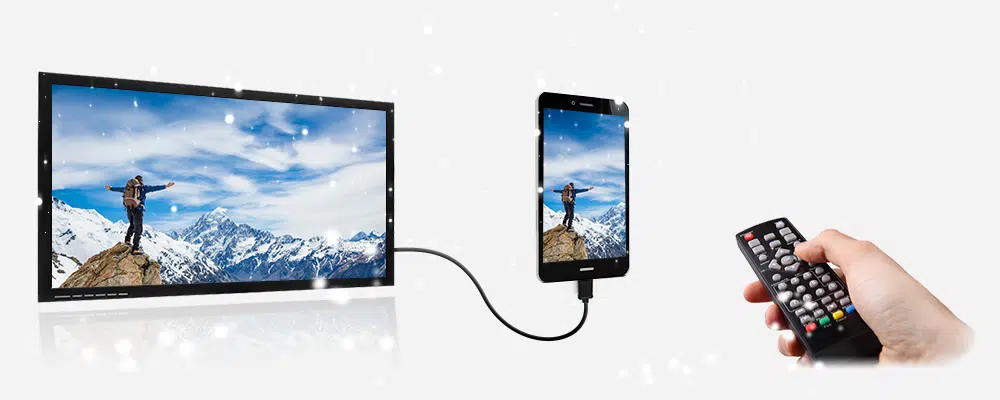 In the case of an iPhone, it's easiest to use Apple's wireless AirPlay protocol. You'll need to make sure your TV is set up for Wi-Fi and Bluetooth. If you don't have an AirPlay-compatible TV, you can still mirror your screen with a wired HDMI cable or a Bluetooth dongle.
If you're using a Windows or Mac computer, you can use a screen mirroring tool called Miracast. The app will mirror your mobile screen on a PC. Alternatively, you can use Google Chromecast.
Using your phone to mirror your TV's screen is a great way to enjoy movies and games. However, it's important to remember that screen mirroring apps can have a delay or poor quality. Some also require you to view ads.
Smart home features:
There are a number of ways to connect your phone to your television. This is not always an easy task, especially if you are using an older model, but the process is not impossible.
The most basic method involves connecting your phone to your TV through a long USB cable. If you are an Android user, you can use the built-in Cast feature.
You can also connect your phone to your television via a third-party app. Many devices support screen mirroring, including iPhones. In some cases, a special adapter is required to display your screen on your TV.
For those using an Android device, you may want to check out the Samsung SmartThings app. It allows you to control your smart home products without paying a monthly fee.