AirPods and AirPods Pros connect to Windows 10 computers using Bluetooth. They'll also connect to other Apple devices you have paired them with, like iPhones and Macs.
Start by making sure your PC's Bluetooth is turned on. Next, open the case's lid and press the white "Setup" button for about three to eight seconds until the case LED flashes white.
How to Pair Connect AirPods Pros to Windows 10:
You'll need to have the latest Bluetooth driver installed on your Windows 10 laptop before trying to connect your AirPods Pro. This is a simple process, and you should be able to find the correct driver on your PC manufacturer's website.
To put your AirPods Pro into pairing mode, open their case and hold down the setup button (white with an Apple logo) until you see the case LED flashing white. You'll then need to wait for your Windows computer to detect them, which could take a few seconds.
When they appear in the list of available devices on your computer, select them and follow any additional instructions to pair them. When you're done, your earbuds should now be connected and ready to use with both audio and voice applications.
This includes Spotify and Skype. Additionally, they should now be your default audio device whenever you're using your computer. The Bluetooth & other devices menu in your Settings app should reflect this change as well.
Troubleshooting How to Connect AirPods Pros to Windows 10:
AirPods Pros connect via Bluetooth, so they should be compatible with any computer that supports the technology.
But as with any wireless device, occasionally you might experience issues when connecting or maintaining a connection to your PC. If you run into trouble, there are several things you can try to resolve the problem.
One of the easiest solutions is to make sure your AirPods and their case are fully charged. You can also try restarting your computer to ensure there are no corrupted data or temporary bugs.
Another common solution is to temporarily disable Bluetooth on any nearby Apple devices, including your iPhone or iPad. This could cause interference that prevents your AirPods from pairing with your Windows PC.
You can also try modifying your Windows Registry settings. To do so, press the Win key and R to open the Run box, then type regedit.
In the Registry Editor, navigate to HKEY_LOCAL_MACHINESystemControlSet001ControlClasse0cbf06c-cd8b-4647-bb8a-263b43f0f974BluetoothCapabilities. Rename the entry to PnPCapabilities and change the Value data to 24.
Reconnecting How to Connect AirPods Pros to Windows 10:
If you find that your AirPods Pros fail to connect to your computer, first make sure they're charged and turned on. Next, try restarting them and repairing them.
Then, if you still have the issue, reset your AirPods to factory settings by holding down the Noise Control button and Digital Crown until the status light flashes amber.
This can fix problems ranging from audio quality to connectivity and is one of the only ways to resolve the problem if you're not in range of your charging case.
If that doesn't work, you can also run the Windows troubleshooter, which will find and fix issues preventing Bluetooth devices from connecting to your PC.
To open the troubleshooter, type "troubleshoot" into the search box and select Troubleshoot settings from the results.
After the troubleshooter is done, you should be able to reconnect your AirPods to your laptop and use them for listening or talking on calls. Devon Delfino is a freelance writer in Brooklyn, NY.
She writes about personal finance, culture, and politics for a variety of publications. Her work has appeared in The Los Angeles Times, Teen Vogue, and Business Insider.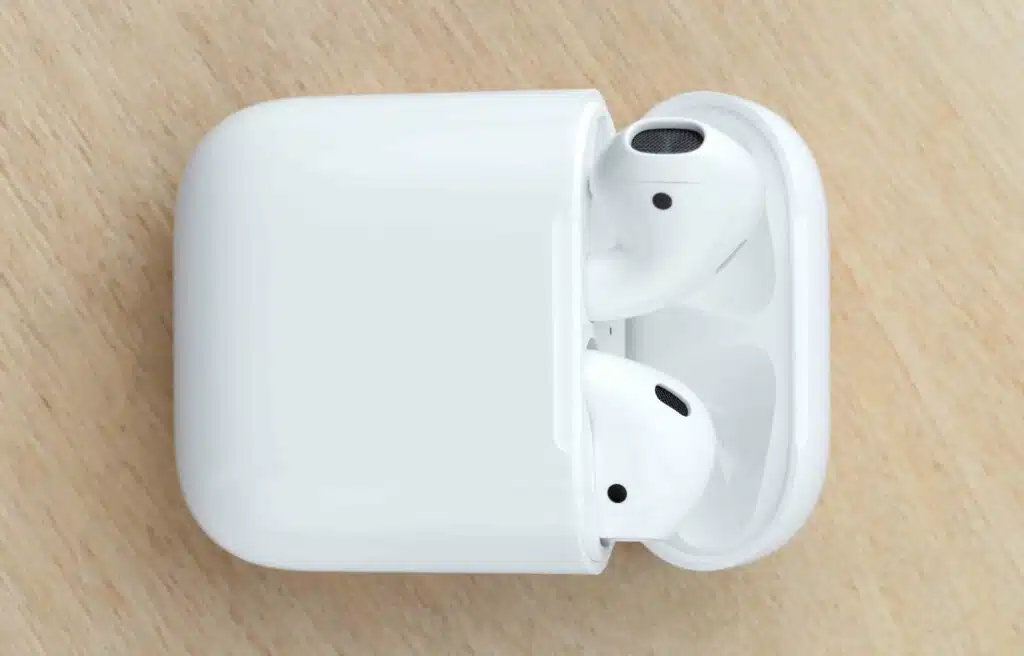 Disconnecting How to Connect AirPods Pros to Windows 10:
If you're unable to connect your AirPods Pros to Windows 10 or 11, there may be a hardware or software problem. You can run the built-in Bluetooth troubleshooter to identify and fix problems with your Bluetooth devices.
To start, put your AirPods in pairing mode by long-pressing the setup button on the back of the case until the status light flashes orange, then white.
Then, open the Windows Start menu at the bottom left corner of your screen and head to Settings. Click the Add a Device button and select Bluetooth.
Open your computer's Bluetooth settings (click the Bluetooth icon in the system tray all the way to the right of your taskbar, or search "Bluetooth and other devices" in the taskbar search field) and select your AirPods Pros from the list of available devices.
Click Pair to reconnect your AirPods Pros to your PC. If your AirPods disconnect from your PC frequently, disable Automatic Ear Detection in the Bluetooth settings to resolve this issue.