How to Connect Hotspot From Mobile to Mobile:
Connecting a hotspot from mobile to mobile is a simple process that allows two or more devices to share the same Wi-Fi network.
Depending on the device, you can connect via Bluetooth, Wi-Fi menu, or USB. You should ensure that both devices are switched on before starting to connect. Also, remember that the connection may be affected by the quality of the Bluetooth connection.
The wireless hotspot function allows you to connect up to 10 mobile devices to the Internet:
This function allows you to share your mobile data connection with other devices. You can use this feature on certain models of smartphones.
However, some carriers limit this feature or charge extra for it. To prevent this from happening, you should check your mobile carrier's policies.
To enable this feature on your phone, go to your settings and go to the Hotspot section. Scroll down to the Mobile Hotspot section, and tap on the arrow to turn on the hotspot feature. You'll be prompted to enter a password.
This password is required to connect other devices to the Internet. After you've entered the password, your mobile hotspot is enabled.
You can also turn your mobile data signal into a Wi-Fi signal. This feature will allow you to connect up to 10 mobile devices at a time to the Internet. To set up this feature, you should have a phone with Wi-Fi capabilities.
Mobile hotspots can either be standalone devices or built into a smartphone. They allow multiple devices to connect to your Internet connection, though you should use caution when using your mobile hotspot because it will use a lot of data.
A mobile hotspot can connect up to 10 devices at once, but its range is relatively limited. Moreover, the speed may be slower than a regular Wi-Fi connection.
Most recent Android phones and iOS devices can be turned into a Wi-Fi hotspot. Usually, the cost of using this feature is built into your monthly service plan.
However, it is important to note that some service providers will limit this feature after a certain amount of data is used. Once this point has been reached, the connection will slow down and become an antediluvian 3G speed.
Battery saver mode can help conserve battery life:
When you're connected to a wireless hotspot on your mobile, you'll find that the device drains more battery than usual. WiFi+3G routers can use up to 2A at 5V when fully active, which means a 2000mAh battery can only last about an hour at that rate.
This means that you'll need to take steps to conserve your battery life when using a hotspot. For example, you can charge your phone via USB to minimize battery drain. But keep in mind that your charger cable may not always provide the full current needed to charge your device.
You can also use the Android Battery Saver mode, which works on most Android devices. This mode limits the amount of power your phone uses by turning off features you don't need. Features such as Hey Siri and background application usage are disabled in this mode.
Some visual effects will also be disabled. Both platforms have a feature that switches your device to this mode automatically if your battery level drops below a certain threshold. In addition, you can manually switch the device to this mode when needed.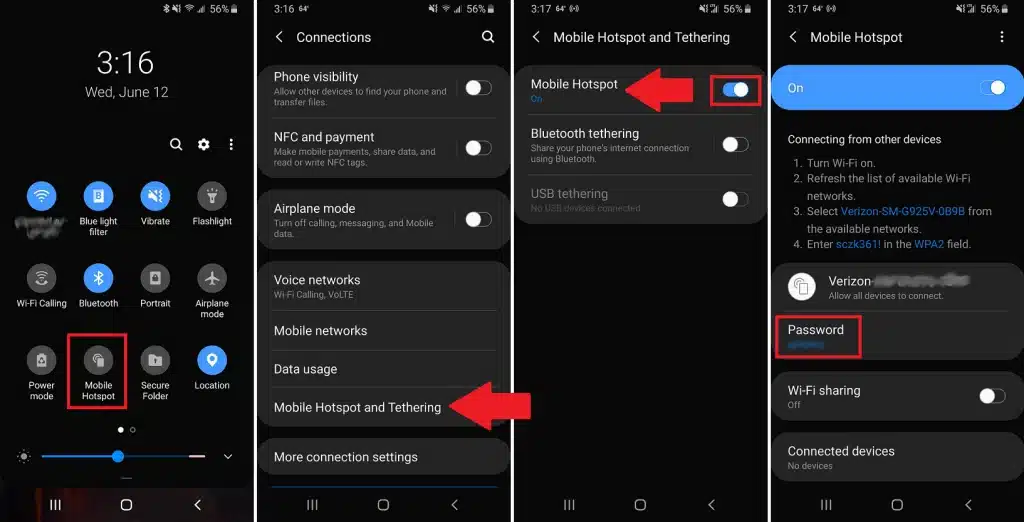 Another way to conserve battery life while using a hotspot is to switch off the hotspot. To do this, swipe up from the Home screen or down from the bottom of the screen. This will bring up a menu that will let you adjust the settings.
Changing the frequency of the signal you send out to create a hotspot:
If you're thinking of setting up a mobile hotspot, you need to make sure that your plan will allow you to do so.
Some mobile carriers may have restrictions on how much data you can transfer via the hotspot. In some cases, you may be limited to 3GB of data per month.
First, check your phone's frequency range. It should be within 15 feet of the device you want to connect to. This way, you can avoid interference.
To do this, go to your phone's settings and tap on the Broadcast channel. If you have trouble determining the frequency range, you can look up a cell tower's location on a map.
You should also change the SSID and password for your hotspot to keep it safe. Common SSIDs can be detected by hackers, so changing them is a good idea.
Also, you should enable WPA2 encryption, which scrambles data sent to or received from devices on the network. This way, you can prevent fraudulent activity from occurring.
Another way to create a mobile hotspot is by changing the frequency of the signal you send out. Android phones, for example, support the 5GHz frequency, which is faster than the 2.4GHz band. If you don't like the frequency of the signal, you can always switch back to 2.4GHz.