When you need an internet connection on the go, you can set up your iPhone to act as a hotspot. This is a great way to get an internet connection without buying a new data plan.
However, this can consume your phone's battery and drain your data plan quicker than normal. It's important to be mindful of your carrier's data limits, as well as the tethering rate on your phone's own plan.
How to Connect:
There are times when you're away from a Wi-Fi network and need to use your iPhone's cellular data connection. You may need to send a quick e-mail, hail a ride share, or upload some photos or videos.
A Personal Hotspot on an iPhone lets you use your cellular data when you don't have access to Wi-Fi. Depending on your iPhone model and carrier, this feature can be found in Settings > Cellular (or Settings > Mobile Data).
With iOS 13 or later, devices that are connected to a Personal Hotspot will stay connected even when the screen is locked, so they'll still receive notifications and messages.
However, Personal Hotspot uses your iPhone's data plan, which can be used up quickly if you're streaming video or doing other bandwidth-intensive tasks.
If you want to find out who's using your Personal Hotspot, you can scan your network with a free app like Network Analyzer.
These apps can't tell you who is connected to your device, but they can show you all the IP addresses and MAC addresses of all the other devices using your network.
Bluetooth:
Bluetooth is a great way to connect your iPhone with other devices. It's easy to use and can help you save time and energy.
To make your iPhone discoverable for other devices, go to Settings and tap Bluetooth. You can also turn Bluetooth on or off by dragging it up from the bottom of the screen.
If you want to share your iPhone's internet connection with another device, you can set up a Personal Hotspot. This can be done by using a USB tethering cable or via Bluetooth.
You'll need to turn Personal Hotspot on, and you may have to input a password. This will allow you to use your iPhone as a Wi-Fi access point on your Windows computer or another device.
If you have problems connecting to your iPhone's hotspot, try restarting your phone. This will often fix minor software glitches that are causing issues with the hotspot.
How to Connect Hotspot on iPhone USB:
If you have a Windows PC, you can share your iPhone's mobile data with it through USB tethering. This process requires iTunes to be installed on the PC, but it's a convenient way to access your iPhone's data without having to use cellular data.
Before using this method, you should check whether your phone and computer are compatible. You should also consider how much power your iPhone uses.
The fastest way to connect your iPhone to a Windows PC is through USB. It's also the most secure, and you can control the connection on both devices.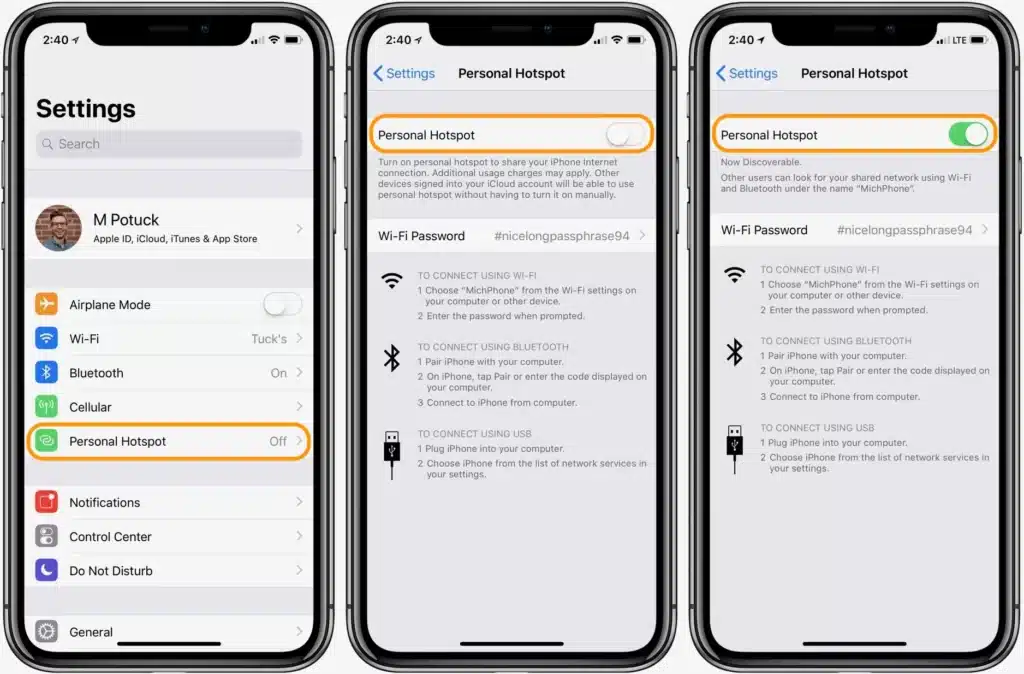 However, if you're concerned about battery drain or don't have a USB port on your Mac or PC, Bluetooth is another option.
To use this method, plug your iPhone into a USB port on your PC and activate the Personal Hotspot service. This should automatically connect the iPhone to your PC's network settings.
How to Connect Hotspot on iPhone Family Sharing:
Family Sharing is a great feature to help you and your loved ones share content on your devices. It allows you to share Apple Music, movies/videos, and apps.
You can also use Family Sharing to set up a device for your child, customize parental controls, and more.
The app also lets you control their purchases, set limits on Screen Time and choose the contacts they can communicate with.
Using Family Sharing on an iPhone is super simple!
Firstly, you need to create an Apple ID for each person who will be in your family group. You can do this by going to Settings > [your name] > Family Sharing, then tapping the Add a Family Member button.