How to Connect Laptop to Android TV Wirelessly
How To Connect Laptop To Android TV Wirelessly? There are several reasons why you would want to connect your laptop to a TV. You may want to show vacation pictures on a big screen or play triple-A games using a wireless controller from the comfort of your couch.
Almost all modern laptops come with HDMI ports that you can use to mirror your display on a smart TV. You just need to plug in the cables and select the correct input on the TV.
Wi-Fi Direct:
You can connect your laptop to a TV wirelessly using Wi-Fi Direct. This connection technology can be used to send photos, videos, and music directly from your device to the TV. It's similar to Bluetooth connectivity, but it offers better security and higher speeds. You can find out whether your device supports Wi-Fi Direct by looking at its wireless settings or checking online. Many device manufacturers also provide support resources and user forums to assist customers with connecting to their devices through Wi-Fi Direct.
To use Wi-Fi Direct, you must have a compatible TV and laptop that both support screen mirroring. Most recent laptops come with this feature, but you should check your specific model for details. You may need to update your laptop's system software or firmware to enable this feature. You should also check the TV's specifications to make sure it supports Wi-Fi Direct.
Once your device is connected to the TV, you can choose from a variety of different display options. Duplicate displays your screen on the TV, which is ideal for giving presentations. Extend displays your screen on the TV as an additional monitor, which is useful when you want to work on two windows side by side. Finally, second screen only shows the TV's image on your laptop, which is useful for watching movies or other media.
HDMI:
If your laptop and TV both have HDMI ports, you can use an HDMI cable to connect them. Make sure they are both turned on and then select the correct input using the TV remote. This method will work with most recent laptops and TVs. However, if your laptop and TV have different resolutions you may need to change the settings on your laptop to match.
If you want to do this without a cable, you can use Wi-Fi Direct or a solution like a Google Chromecast. These are available for a reasonable price and can be used on any TV, not just a smart TV. These are ideal if you are looking to play games on your TV because they can eliminate the lag that can occur with wireless connections.
To do this, you will need to have both your laptop and TV connected to the same Wi-Fi network. Then, open the video you want to play on your laptop and click the cast icon.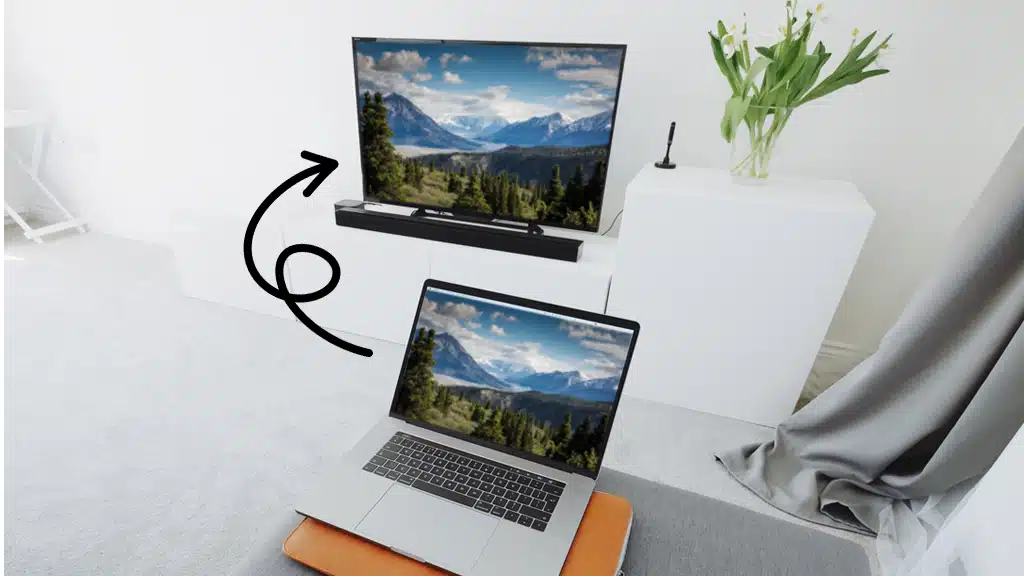 This looks like a rectangle with a Wi-Fi signal inside of it and is located in the corner of your screen. This will bring up a list of devices, including your TV. Click it and your laptop screen will be mirrored on the TV. If you want to do this with a non-smart TV, you can also purchase media streaming boxes and other solutions that will act as a bridge between the two devices and can be used on any TV.
USB-C:
Using your laptop's screen on your TV can be useful if you want to surf the web, work from your couch or play games. However, there are some issues with lag and text size when connecting laptop to TV wirelessly that can make the experience less than ideal. If you're experiencing these problems, try power cycling your devices by turning off both your phone and TV, unplugging the charger and then plugging them back in. If this doesn't resolve the issue, try using a different cable or adapter.
Modern laptops often come with HDMI ports that can be used to connect to modern smart TV's. To do this, simply connect an HDMI cable from your laptop to the TV. If your TV doesn't have an HDMI port, you can use a USB-C to HDMI adapter instead.
Once the HDMI connection is established, you can open your laptop's Settings and select Display. From there, you can choose to mirror (duplicate) your laptop's screen on the TV or extend these displays. This last option can be helpful when giving presentations. As it allows you to drag windows from one display to another.
If you want to use your laptop as a second screen but don't want to deal with cables. You can also purchase a media streaming device such as a Chromecast or Apple TV. These devices can connect to your home's Wi-Fi network and provide a wireless display for your laptop.
AirPlay:
Modern laptops come with HDMI ports that allow them to mirror their screen on a TV. They're also likely to have support for Miracast technology, which works with a number of different TVs and streaming devices. If your TV doesn't have HDMI, you can use a wireless HDMI adapter to connect it.
Once your laptop is connected to the TV, you can start playing video from any app that supports it. Some apps have their own shortcuts for starting playback, while others can be started from the lockscreen or Control Center. The only requirement for using AirPlay is that the source device and TV are on the same Wi-Fi network.
In addition to allowing you to stream video, AirPlay can be used to project presentations and spreadsheets. It can even be used to play games. Though the lag from the wireless connection may prevent you from enjoying any real fun.
While screen mirroring is a great solution for many people, it's not the best option for everyone. For example, the resolution of your laptop and TV might be different. Which can cause problems if you try to adjust your settings. If this happens, it might be a good idea to connect your laptop
with a VGA cable and use an audio-output converter. This will ensure that you're not wasting your time trying to match the resolutions of your devices.