How To Connect PC To TV Wirelessly?
How To Connect PC To TV Wirelessly HDMI? Using your TV as a computer monitor can be a convenient way to share desktop content on the big screen. But there are a few technical requirements to keep in mind.
For example, your laptop needs to support wireless screen mirroring via Wi-Fi Direct, and your TV must be compatible with this technology.
HDMI:
If you have a smart TV with Miracast or Chromecast built-in, or a device that supports those protocols like a Roku, it's easy to mirror your PC screen to it wirelessly. For other TVs and non-smart devices, you'll need a wireless HDMI adapter.
 How To Connect PC To TV Wirelessly HDMI?
These devices work by replacing the HDMI cable between your TV and laptop with a transmitter and receiver. One plug goes into the HDMI port on your laptop, and the other plugs into an empty HDMI slot on your TV. Then, you can control the TV using its remote controls.
Using your TV as a monitor has its downsides: text may be too small to read, input lag can ruin gaming scores and the couch might become a backache after long sessions of watching videos or playing games. But it's also cheap and convenient. You just need a good screen mirroring app and a WiFi connection.
To use a wireless HDMI adapter, you must have a full-sized HDMI port on your laptop or desktop computer and a standard HDMI cable. You will also need a powered USB charging port to power the transmitter and receiver. Then, you'll need to turn on your laptop and TV and select the right input on the TV. On a Windows computer, you can do this by navigating to Settings > Display. On a Mac, you can do this by going to System Preferences > Displays.
VGA:
If you have an older laptop with a VGA port, it can be used to connect the computer to the TV. This method only works for video, though — the audio must be streamed separately. Plug one end of a 3.5-mm audio cable into the headphone jack on the laptop and the other into the "Audio-In" port on your TV. Then, select the PC or RGB input on your TV with the remote.
You can also use an HDMI-to-VGA converter, which is typically much less expensive than an actual HDMI-to-TV cable. In either case, make sure that both the TV and the laptop are on and powered on when you begin the process. Once you're finished, the TV should display the laptop screen.
It's important to keep in mind that the TV and the laptop may have different resolutions, which can cause text to appear small or stretched.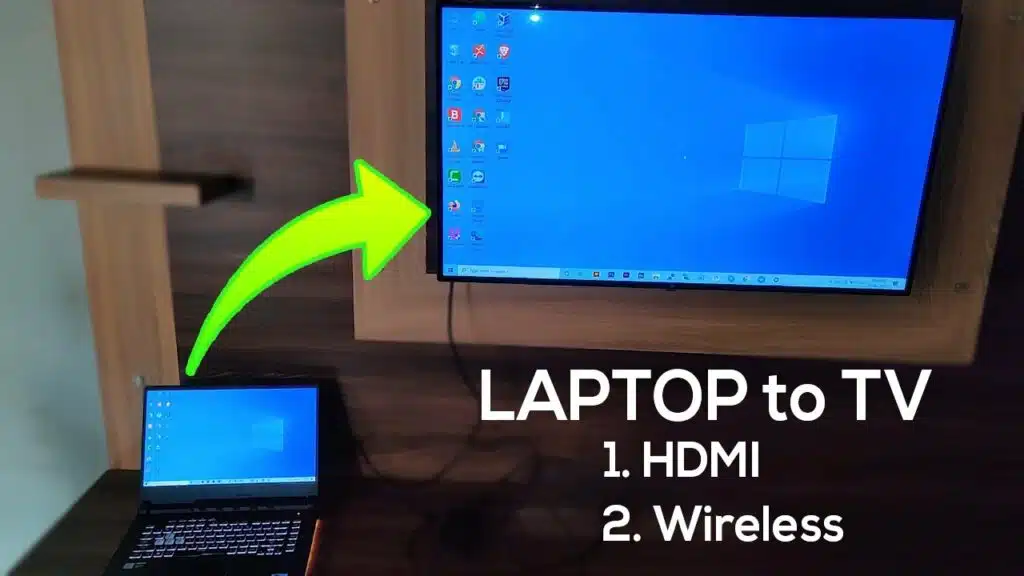 If that happens, you can adjust the settings in Windows or Mac to match the two devices' resolutions. It's also a good idea to use a wired keyboard and mouse because wireless connections can sometimes introduce lag. This is especially true for games that require quick and accurate clicking.
Audio:
There are many ways to connect an audio device to a TV, but the method you use depends on your equipment and whether you want to stream or play locally. For example, if you have a pair of wired headphones with 3.5mm or RCA connections, it's easy to hook them up to the TV by using an inexpensive AV cable.
A wireless Bluetooth connection is a convenient option if your TV supports it, and there are several different transmitters available to choose from. Some are designed specifically for connecting to TVs, and some offer a range of other features like voice control, support for multiple devices, and low-latency Bluetooth codecs.
If you're using a wireless connection, make sure your TV and computer are both on the same network and that they're both connected to the internet. You may also need to download and install a software program or an app to enable the connection.
It's important to note that your laptop and TV probably have different screen resolutions, so unless you're set on making everything on the big screen match up exactly, some things will look off. If this is the case, you can adjust text size on Windows and Mac to fix it.
When you're ready to connect your PC to a TV. Open the Settings menu on your computer and go to Display. You'll see a list of available displays; select the one you want to connect to and. Follow the on-screen instructions to finish the setup process.
USB-C:
The simplest way to connect a computer to a TV is to use a standard HDMI cable. This method works best for laptops that have a full-sized HDMI port. However,. Not all laptops have this type of port, so you may need a special HDMI adapter or cable to make the connection.
You can also use a USB-C to HDMI cable or adapter to connect your laptop to a TV. That has a USB-C port. This type of cable works best with modern smartphones and tablets that have a USB-C port.
 How To Connect PC To TV Wirelessly HDMI?
But it can also be used with older phones or devices. Just plug the USB-C end of the cable into your device. And then the other end into an HDMI port on your TV. Then select the correct input on your TV with your remote or on-screen menu.
Lastly, you can connect your PC to your TV wirelessly using an app like ApowerMirror. This screen mirroring app can display a full-screen video from your laptop to a TV, and it also supports audio. It can even help you find the right HDMI port if your computer doesn't have one.
Most modern Windows 10 computers have an inbuilt feature that lets you project your laptop's screen to a TV. To enable this, you need to make sure that the TV and the PC are on the same Wi-Fi network.