How to Connect Samsung Watch to Phone?
How to Connect Samsung Watch to Phone? When it comes to connecting your Samsung watch to your phone, there are a few things you should keep in mind. First, make sure that Bluetooth is turned on and that both the watch and the phone are within range. If there is a lot of wireless interference, try moving your devices to a different location.
1. Turn on your watch:
Samsung's latest watches have a lot of fitness and health features. They can track your heart rate, help you get better sleep and even keep tabs on your stress levels. These watches can be used for various activities like workouts, walking and even running. The data collected by these watches is then transferred to the Galaxy Wearable app. The app can then show you the various insights about your health and fitness.
The first thing you'll need to do is make sure that your watch is turned on and has a full charge. It's also important that your phone and watch are within close range so they can communicate with each other. Finally, you'll need to make sure that neither your watch nor your phone is set to Airplane mode. Airplane mode disables Bluetooth connections and can cause problems when connecting your Samsung watch to your phone.
If your watch still can't connect to your phone, try restarting both devices or moving them to a different location with less wireless interference. You can also try re-pairing the watch by going to its settings and choosing "Forget". This will erase all of its existing pairing information so that it starts over.
2. Open the Galaxy Wearable app:
If you're having trouble connecting your watch to your phone, try factory resetting it. You can do this on your watch by swiping up and tapping Settings > General > Reset. You might be prompted to back up your data before continuing.
Then, install the Galaxy Wearable app on your phone. You can find this in the Galaxy Store(r) or Play Store (depending on your phone model). Once the app is installed, open it and wait for it to locate your watch.
Once the app finds your watch, you should see a prompt on both devices asking for permission to connect. Tap "Accept" on both of them.
If you've connected your watch to more than one phone before, remove it from all but one of them so that the watch doesn't get confused about which phone it should connect to. You can also do this in the Galaxy Wearable app by selecting "Manage devices," then choosing your watch. If your watch still doesn't connect to your phone, you may need to factory reset it and reconnect it to a different T-Mobile plan.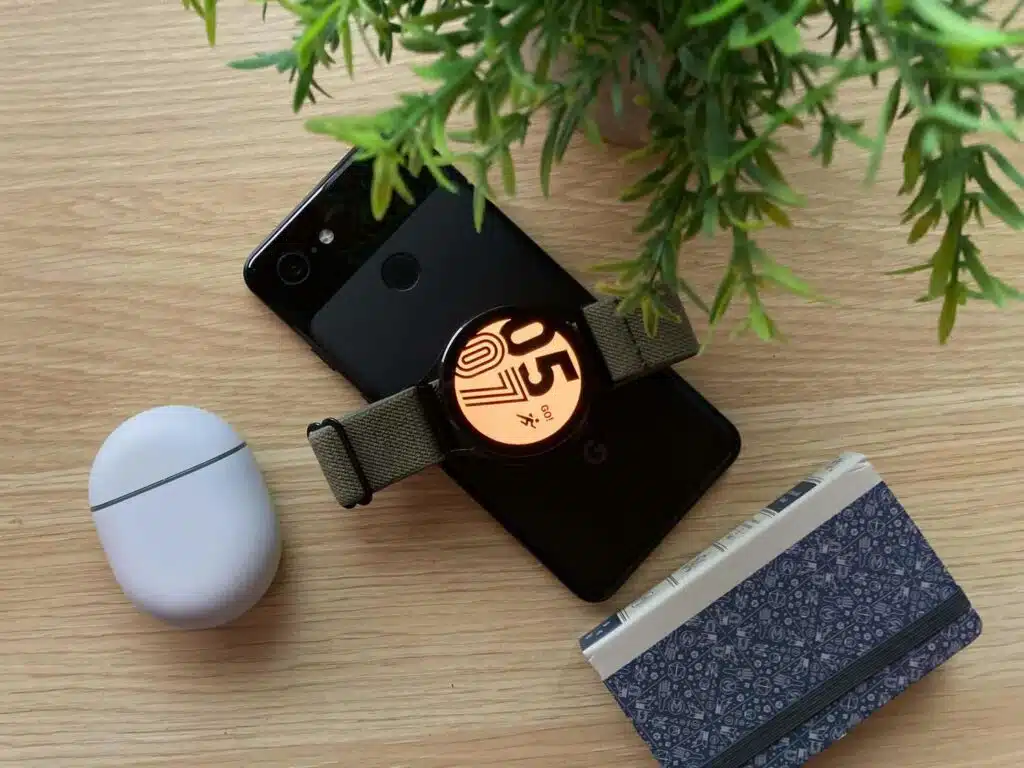 3. Select Pair:
After the app finds your watch, tap it to begin pairing. The process can take anywhere from a few seconds to a few minutes, and you should see matching codes appear on both your phone and watch to indicate the devices have paired successfully. During this process, you'll be prompted to allow various features, such as notifications and phone contact sync (which you can disable at any time).
When the process is complete, you'll be informed of how your data will be used by Samsung. If you agree, select "Accept."
If the device doesn't connect automatically, ensure that Bluetooth is enabled on both the watch and phone. You can also try rebooting both devices or moving them to a location with less wireless interference.
Galaxy Wearable will also give you the option to back up all settings and data from an old phone before continuing with the new connection. If you do choose to backup, follow the prompts to copy your data. You can also skip this step if you want to set up your watch as new instead.
4. Wait for the app to find your watch:
A screen displaying the name of your watch and a code will appear on both the phone and the watch. If the codes match, touch "Pair" on the phone to complete the Bluetooth connection between your smartphone and smartwatch.
The Galaxy Wearable app must be open to find your watch and connect it to your phone. It may take a few moments to connect to your device. If the process is taking a long time, try clearing your cache files.
If you are attempting to connect a Samsung Galaxy Watch to a different phone, make sure that the watch is reset and that it has been backed up. You can then transfer its settings and other data to a new phone using the Galaxy Wearable app. Also, make sure that your watch and your phone are both on, Bluetooth is enabled, and there isn't too much wireless interference. If this doesn't work, you can use more advanced troubleshooting techniques. For example, you can check that the Airplane mode on both your watch and your phone is turned off.
5. Tap Sign in:
Sync your Galaxy Watch with your phone to get notifications for text messages, calls, and more. Then, you can quickly access your favorite apps and features, including fitness trackers like Runkeeper, CoPilot GPS, and Foursquare. Plus, your Galaxy Watch can act as a remote shutter for taking selfies or group photos using the camera app.
The process takes a few minutes to complete. Make sure your watch and phone have more than 25 percent battery life before starting the process. It's also important to use Samsung-approved chargers and cables for your device, as non-compatible accessories can damage your watch or phone.
You can also back up your watch's settings and data from the Galaxy Wearable app if you want to transfer it to another device. Just tap "Back up data" and follow the on-screen instructions. Then, when you're ready to connect your watch to a new phone, select "Connect to a different phone." Note: Your Galaxy Watch won't work with iPhones and will only have limited functionality on Apple devices. You can still view call history and message details on your iPhone, however.