How to Connect Walkie Talkie With Your Apple Watch?
Open the Walkie Talkie App:
How To Connect Walkie Talkie Apple Watch? To use Walkie Talkie, both you and your friend must have an Apple Watch Series 1 or later running watchOS 5.3 or later and iPhones running iOS 12.4 or later with FaceTime enabled. You can also pair two Apple Watches with the same person using Family Setup, which allows each member of a group to connect with one another even without an iPhone nearby.
To get started, open the app on your Apple Watch (physically press the Digital Crown) and tap Walkie Talkie. If you're not already connected to a contact, choose Add Friends. Select a contact and wait for them to accept your invitation. Once they do, their contact card will appear yellow in the Friends list and they'll be able to be contacted.
Once you're connected, tap the green button in the app to enable theater mode. This will prevent incoming Walkie Talkie calls and messages while you're on the go, or if you need to focus on something else.
Raise your wrist to wake up your Apple Watch, then tap the name of a contact. When you're ready to speak, hold the talk button and speak into your microphone. When you're done, release the button to end your conversation. You can also adjust the volume of your voice by turning the digital crown. The app also features a mute button, which you can press to shut off audio.
Tap "Add Friends:
When you first start using Walkie Talkie, the app will let you choose a friend from your Contact list to invite. Then, their contact card will remain grey until they accept your invitation, and then it'll turn yellow when they're available to chat. To remove a friend, open the app and tap the x button next to their name.
After you've added a few friends to your Friends list, you can talk to them directly through the Watch. Simply tap their name in the Friends list and then press and hold the Talk button to speak. You can also use the Digital Crown to increase or decrease the volume while speaking. When you're done, just release the Talk button to end your call.
If you're having trouble connecting to your friends, it may be because the feature is still new. Make sure that both you and your friend have the latest version of WatchOS, and that both of you are signed in to FaceTime on your iPhones. You can also try restarting your Apple Watch and iPhone to solve the problem.
If your friend isn't responding, it could be because their iPhone is in airplane mode or because they're using headphones. Make sure that both of you are using the same Apple ID on your iPhones, and check the Settings menu on your iPhone to ensure that Tap to Talk is enabled. If you're unable to fix the problem, contact Apple Support for help.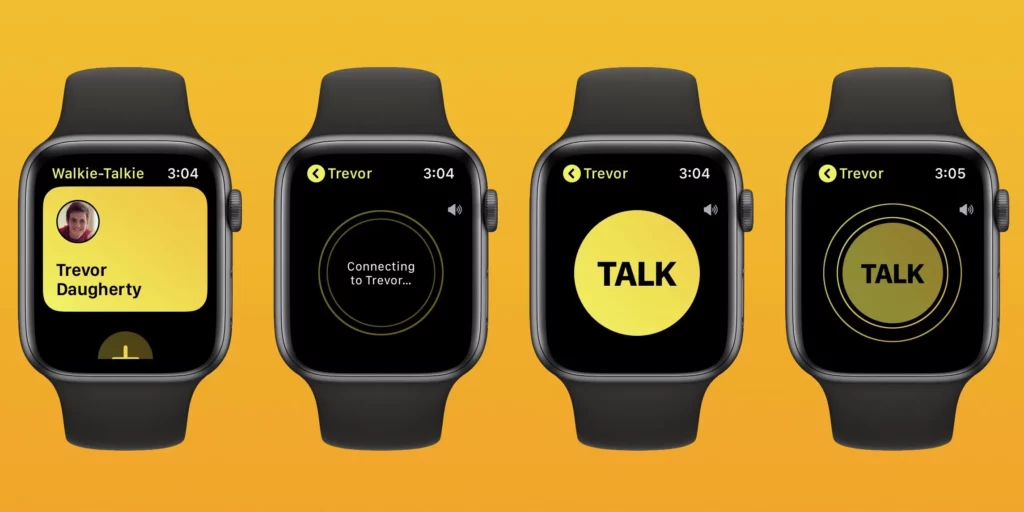 Tap Invite:
Once you've added a friend to your Walkie Talkie App, tap "Invite" to send them an invitation. They'll need to accept the invite before you can communicate with them using your Apple Watch. When your friend receives the invite they'll get a notification on their Apple Watch. The invitation will also appear in the Walkie Talkie App.
Once your friend accepts the invite, their contact card will turn yellow. This means that you can call them anytime and you can talk instantly. To start a conversation with your friend, tap the button that says "Talk". Once you're done, tap "Hold and Talk" to end the call.
Some users have reported problems with invitations on the app. If this is a problem for you there are a few things that you can try. First, make sure that your friend is using an Apple Watch with watchOS 5 or higher and that their device is paired to yours. Another option is to restart both devices. Finally, some users have found that it helps to cancel and resend the invitation several times.
If you're still having trouble, you can always reach out to Apple Support. They can help you troubleshoot the issue and fix it. Apple Support is available 24/7 by phone, email, or chat. You can also find other helpful resources on the official website.
Tap Accept:
Once the invite has been accepted, the other person will show up in your friend list and you'll be able to communicate with them via the app. Ideally, the invite will arrive as a notification on your Apple Watch, but it can also appear in your Notification Center or within the Walkie Talkie App itself.
When communicating, press and hold the talk button to speak and release it to listen to a message. If you want to cancel a conversation, simply swipe left or right on the screen or tap "Cancel". In addition, you can change your notifications by tapping the "Notifications" tab and selecting what type of messages you want to receive.
If you find yourself struggling to keep your finger pressed on the talk button for long periods of time, you can turn on Single Tap Talk. This will allow you to tap once and speak. Additionally, if you have a hard time hearing your voice through the microphone, you can adjust the volume with the Digital Crown.