How to Fix iPhones That Won't Connect to Car Bluetooth?
iPhone Won't Connect To Car Bluetooth? Several iPhone users have reported problems with connecting their phones to their car's Bluetooth. Fortunately, there are some quick fixes that can help you get back up and running.
The first thing to try is to reset the network settings. This will wipe all your network connections and restore them to the default settings.
Restart the device:
Restarting your device is one of the first things you should try if it won't connect to your car's Bluetooth. It will clear out any minor glitches that may be causing the problem. To restart your iPhone, press and hold the sleep/wake and home buttons until you see the Apple logo. If that doesn't work, you can also try resetting your network settings.
Another thing you can try is connecting the iPhone to another Bluetooth device to see if it works. If you can connect to a different device, it means that the issue is with the Bluetooth device and not the iPhone. However, if you can't connect to any other devices, it means that the problem is with your iPhone.
If your iPhone has a pending software update, you should install it to fix the problem. It's important to update the iOS regularly to patch bugs and improve security. You can do this by going to Settings and selecting General. You can also check for updates on the App Store.
If you can't solve the problem by rebooting your phone or resetting your network settings, you can reset the device and restore it as new. This process will erase all content and settings, so you'll have to start over from scratch. It's essential to back up your data to iCloud before performing this task.
Reset the network settings:
Despite its many advantages, Bluetooth can occasionally experience problems. This can be due to a variety of reasons, including outdated software or interference from nearby wireless devices. Luckily, these issues can be easily fixed with a few simple steps.
The first step is to restart your iPhone X and your car's Bluetooth device. This will eliminate any minor software glitches that may have prevented them from connecting. Afterward, try reconnecting the device to see if it works.
If the problem persists, you can also reset your network settings. This will remove all saved network information and reset your Bluetooth settings to the default state. However, it will not erase your other settings, such as Wi-Fi passwords.
You can do this by going to the Settings app and tapping "General". Select "Reset," then choose "Reset Network Settings." Enter your passcode, if needed, to complete the process. After the network settings have been reset, you can reconnect your Bluetooth device and test its functionality.
If you're still having trouble, it might be time to call Apple or visit an Apple Store for a specialized fix. You can also try installing the latest iOS updates to your iPhone X, which will improve Bluetooth compatibility. To check for available updates, go to the Settings app and click "General" then "Software Update." If there's a new update, download and install it.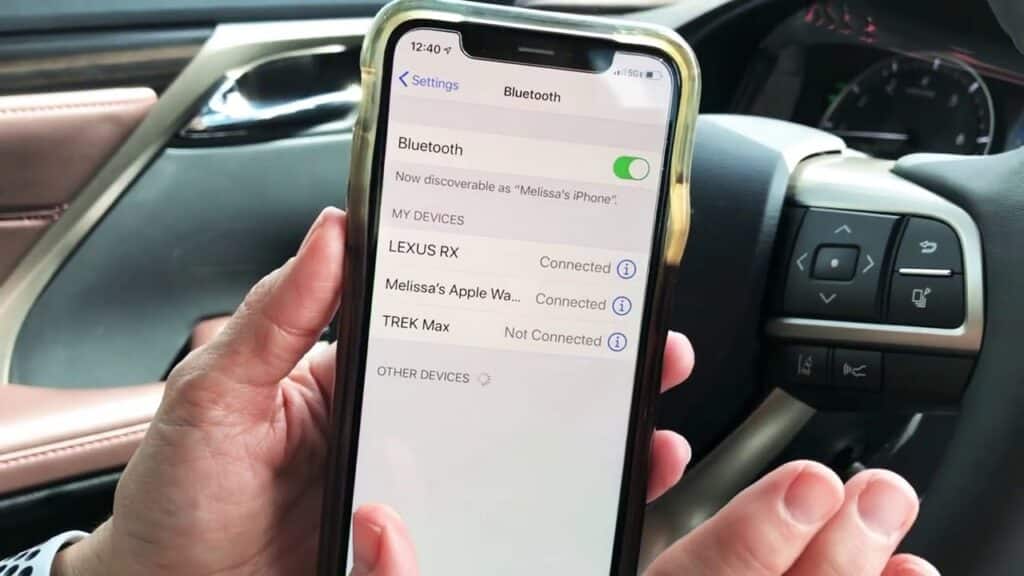 Reset the car's settings:
iPhone Won't Connect To Car Bluetooth. It's not uncommon for wireless systems to have a minor glitch from time to time. Restarting your device and resetting the car's settings can help fix this problem. You can also try deleting old Bluetooth connection profiles in the car's system. This will remove old data that may be causing the problem and make it easier to pair your device again.
In addition, you can also try connecting to the car via USB instead of Bluetooth. This is a good option for people who are concerned about security and want to avoid the risk of a hacker hijacking their Bluetooth connection. This method also preserves app integration, which may be lost when using Bluetooth.
Another potential cause of this problem is interference from other devices that emit radio waves. This can include two-way radios, cell phones, and even items in the car like a generator. If these devices are in close proximity, they can interfere with the Bluetooth signal and prevent your phone from connecting to the car.
You can try removing all these objects and making sure that the Bluetooth signal is free of interference before trying to connect again. Additionally, you should check the car's manual for instructions on how to reset the Bluetooth settings. If you are unable to solve the problem by following these steps, you should contact a Nissan dealer or qualified mechanic for further troubleshooting.
Reset the phone:
There are a few things you can try to fix the problem if your Bluetooth device doesn't connect to your car. One is to reboot your iPhone. This will clear out any temporary problems that may be affecting the Bluetooth connection. It is also a good idea to make sure that the Bluetooth device has a good battery charge. If it has a low battery, it may not be able to produce a strong enough signal to connect to your iPhone.
Another option is to reset your network settings. This will reset all your iPhone settings and restore the default Bluetooth settings. This method will work on most iOS devices. You can do this by opening the Settings app and tapping on "General." Once there, tap on "Reset Network Settings." If you are asked for a password, you should enter your screen passcode to proceed.
You can also use a lightning cable to connect your iPhone to your car's infotainment system. This will preserve app integration while allowing you to use the Bluetooth feature in your car. This is a quick and simple way to solve the issue. In addition, you can try updating the firmware on the Bluetooth device. Sometimes, the firmware on a Bluetooth device needs to be updated to make it compatible with newer versions of the software.