Digital Signature Certificate – Unable To Connect To The Installed Emsigner?
Unable To Connect To The Installed Emsigner? While trying to register DSC in GST Portal, some users are getting an error that says 'Unable to connect to the installed Emsigner'. This issue can be caused by several things, including antivirus software and firewall software blocking the designer program from accessing the internet.
If you're experiencing this problem, follow these steps to resolve it: 1. Uninstall the old version of emsigner.
1. Uninstall the old version of emsigner:
If you have a previous version of the designer software installed on your computer, it is essential to uninstall it before installing a new one. This will ensure that the designer software can connect to the GST portal correctly and avoid any errors that may arise in the future.
To remove the old designer software, open your Control Panel and select 'Programs and Features'. Then, find 'emSigner' in the list and click 'Uninstall.' This will prompt a confirmation dialog box. Once you've confirmed the removal, you should close the window and then open a new browser. After that, you can restart your computer and try again to resolve the error 'https://127.0.0.1:1585 this site can't be reached'.
emSigner is an online digital signing and workflow management solution that helps businesses keep their documents safe. It is designed to be integrated with back-end systems, making it a complete document ecosystem for businesses of all sizes. Besides offering high-end security, the tool also provides flexibility and multiple signing options.
To install emSigner, first, check your system's requirements. You will need a valid Class 2 or Class 3 Digital Signature Certificate (DSC) to use the app. Once you have these requirements, you can follow the steps below to download and install the WebSocket installer. After installation, you can restart your computer to make sure that it works properly.
2. Update the Java:
If you are facing a problem while installing Designer, then you may need to update your Java version. This can be done by visiting the official GST website and logging in to your profile or account. Then, select the option 'Register/Update DSC'. Once this is completed, a new window will open and you will be redirected to the DSC registration page. Here, you will see a 'Click here for instructions on installing signer utility link'.
Once you have clicked the link, a SETUP ASSISTANTS WIZARD will be displayed on the screen. This Wizard will ask you to select the folder where emSigner will be installed. The default folder will be selected. You can also change the folder by clicking on 'Browse' and selecting a different one. Once you are done with this, click on the 'Next' button to begin the installation process.
TRACES WebSocket Designer is an end-to-end paperless ecosystem that can be seamlessly integrated with existing ERP and CRM systems of any organization. The e-signature solution is compliant with European GDPR regulations and offers high-end security features, paired with flexible signing options. It is listed on DirectTrust Identity Qualified Product List (QPL), a global information security standard addressing data security and IT controls. Its cloud offerings are certified SOC 2 Type 2, a standard that ensures the highest level of security.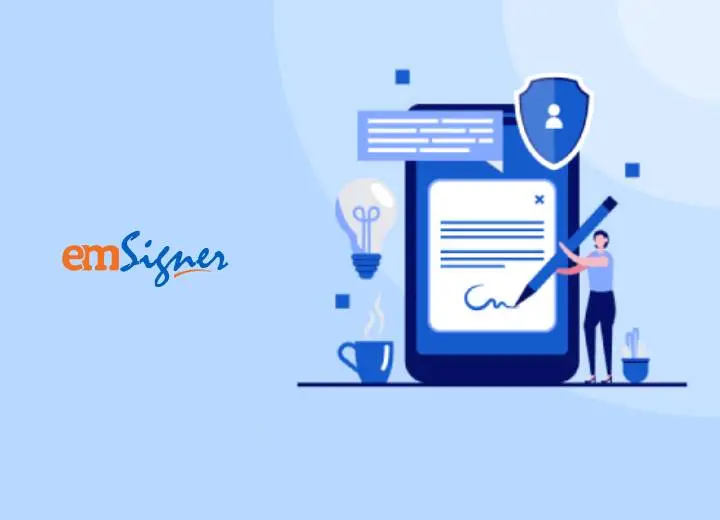 3. Restart the emsigner:
Restarting the designer will help resolve the error that you are experiencing. You can do this by clicking on the start button and then selecting the control panel. You can also access the designer by opening the URL https://127.0.0.1:1585/ in your browser. Once you have restarted the designer, it should work fine.
Another common issue with a designer is that it may not display a secure connection to the server. If this happens, you should try to update your Java or change your designer password. If this doesn't work, you can always call the customer support service to solve the issue.
This problem can occur if the DSC device is not connected properly or has been switched to a different serial number. It can also be a temporary network issue. In some cases, the DSC may need to be re-registered or updated on the GST portal. This is important to ensure that the DSC is a valid one and is linked to your PAN card. It is important to use a DSC that is PAN-based, as Aadhar-linked DSCs do not work on the GST website. If you have followed these steps, but still cannot register or update your DSC on the GST portal, contact the customer support service. They will be happy to help you resolve the issue.
4. Try again:
When you are trying to apply for a new Digital Signature Certificate on the GST Portal, you may come across an error message saying "Failed to establish a connection to the server. Kindly restart the Emsigner". This is an issue that many professionals are facing and have been unable to resolve. The problem is likely caused by some kind of malware or system issues. Fortunately, there are several things you can do to fix the problem.
The first thing you can try is to close all other software running on ports 1585, 2095, 2568, 4587, and 2868. These are the ports used by the designer. You can also try using a different browser, such as Google Chrome or Mozilla Firefox. If you still can't connect to the designer, you can try using a proxy.
The problem with the designer is that it uses a port that doesn't work on all computers. This is because most users have their DSC sticks set up to use a different port. If you are not able to fix the issue with these steps, then you can try using a different DSC token software such as Trustkey ePass, or WD Proxkey. It is important that you use a DSC token that is PAN-based and not name-based. If you continue to have trouble connect to the designer, then you should consider calling for professional help to get it fixed.