Disk Management Unable To Connect To Virtual Disk Service?
Unable To Connect To Virtual Disk Service? If you're using a Windows computer and get this error message "Disk Management could not connect to Virtual Disk Service", there are several solutions that can help. These fixes will work for both PCs and servers.
Many users repair this error by removing external storage devices (USB drives, card readers, phones) one by one until they find the device causing the problem. Then, they update their Universal Serial Bus drivers.
Troubleshooting:
The virtual disk service allows users to execute management functions for disks, file systems, volumes, and storage arrays. These management tasks are complex and prone to errors, so the virtual disk service helps reduce these errors. However, it can sometimes experience problems when connecting to a remote device or hardware. When this happens, it becomes difficult to use the utility, which can be a major inconvenience.
This issue can be caused by a variety of things, such as corrupted system files and other issues. To fix this problem, try running a SFC scan or DISM scan. These scans will automatically find missing or corrupted system files and replace them, restoring functionality. If this doesn't work, you can also try rebooting your computer and re-running the scan.
Another possibility is that your Windows Firewall is blocking the connection to Disk Management, so it's important to check and make sure that it is allowed through. If it isn't, you can follow our guide on how to allow apps through Windows Firewall.
If you're still unable to connect to the virtual disk service, you can try using free remote desktop software such as AnyViewer and the professional disk management tool AOMEI Partition Assistant to remotely manage your disk. Both of these programs are easy to use and will help you resolve this issue in no time.
Corrupted System Files:
System files are important for the proper functioning of your PC. When they get corrupted, it may prevent many services and programs from working as intended. This can also cause your PC to crash, freeze, or stop responding. Fortunately, there are several methods you can use to repair corrupted system files and get your PC back up and running smoothly.
The Virtual Disk Service (VDS) is a Windows component that provides an extensive set of disk management commands that allow administrators, IT professionals, and users to control storage resources more efficiently. It can manage virtual disks, volumes, and partitions, as well as automate many disk-related tasks through scripting. It is also used to troubleshoot disk errors and optimize disk space.
Corrupted files can be the result of a bug in the software that creates and manipulates the file. In some cases, the bug may be temporary, but in other situations, it may persist and lead to malfunctions or corruption of other files on the computer. Additionally, the problem may be the result of an infiltration by a virus or malware.
The first step in repairing corrupted files is to run a scan using an anti-malware program. After the scan, you should reboot your system. After that, you can try to repair corrupted system files by using the DISM command. To do this, open a Command Prompt window and type DISM /Online /Cleanup-Image /RestoreHealth. This will take a while to complete, so you need to be patient.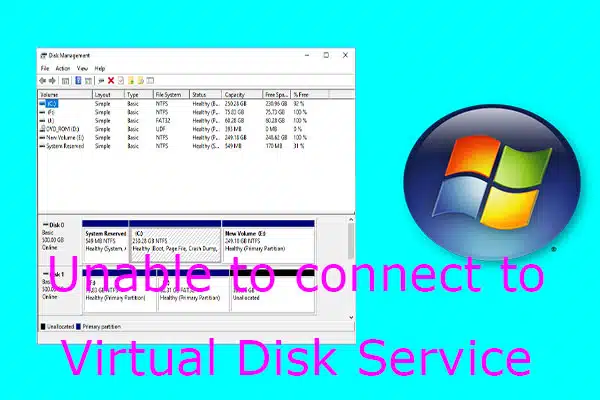 Hardware Issues:
The Virtual Disk Service (VDS) provides a wide range of storage management features to Windows users and applications. It is designed to hide the complexities of storage from application developers, making it platform and vendor-neutral. This helps to make it easier for IT professionals and end-users alike to manage storage on their systems.
VDS is an essential component for many storage configurations, including disk arrays and external hard drives. It also facilitates fault-tolerant disk configurations and allows for automating various disk-related tasks through scripts. This is especially useful for system administrators and IT professionals who are often required to manage large volumes of data.
There are a few possible reasons why your computer might be experiencing an Unable To Connect To Virtual Disk Service error. These include corrupted system files, hardware issues, or a blocked connection to the virtual disk service by Windows Firewall. Corrupted system files can hinder many services and programs from running as intended. Performing a scan of your system, updating drivers, or running anti-malware software can help to resolve the issue.
If you still experience this error after trying the aforementioned troubleshooting steps, it may be necessary to repair the hardware on your PC. You can use a tool like EaseUS Partition Master to do this. This utility can convert dynamic disks to basic disks and is free to download.
Blocked by Windows Firewall:
If Disk Management connecting to Virtual Disk Service consistently fails, there may be some issues with your Windows firewall. Some advanced settings on Windows firewalls can interfere with some programs, especially if they require disk drives or network connections. You can try a few things, like enabling Virtual Disk Service in the Services console, removing external hard drives, running CHKDSK, and system restore to see if you can fix this problem.
The first thing to check if you get this error is whether the computer supports VDS, as it's only supported by certain computers. You can use a free program, AnyViewer, to access the remote computer and see if it supports this feature. If this doesn't work, you can move on to other solutions.
Another reason for this error is that the Remote Volume Management service on your computer is blocked by the Windows firewall. You can open the New Outbound Rule wizard from the Action pane and select Program. On the next screen, choose This program path, then browse for the executable file of the program that you want to block. Remember that you must replace any environmental variables, such as %userprofile% and %systemroot% with the actual path of the program. Then select Allow the connection if it is secure and click Next. You can also select Block the connection if you want to disable this feature altogether.