If you're using a Macbook Pro, an external monitor can give you more screen real estate for your work. Make sure that the cable is firmly connected and that your software is up to date.
Having more than one display can help you work faster and have less clicking between programs. It also helps when you need to reference documents or CAD blueprints.
1. Check the Cable:
Before connecting any monitor, it's important to check the cable to ensure it is correctly connected. This may seem obvious, but sometimes a loose connection can cause the Mac to not recognize the external display. Try disconnecting and reconnecting the cable to see if this fixes the problem.
It is also a good idea to use an Apple-branded or compatible cable and adapter. Make sure that the cable is long enough to reach from the back of the Mac to the front of the monitor.
Also, If you're unsure whether or not the cable is suitable, try it with another computer to determine if the problem is with your MacBook Pro or the monitor.
If the other computer can detect the monitor, it is most likely a problem with your MacBook. If not, it is most likely a problem with the monitor itself.
To force the Mac to scan for a connected monitor, open System Preferences and select the Displays option. Then, press the Alt or Option key to reveal a hidden Detect Displays button.
2. Check the Connection:
Once you know what cables are needed, it should be fairly simple to connect your monitor to your Macbook Pro. Depending on your MacBook's ports and the types of monitors you need to connect, it may take a few adapters or cables.
Make sure your monitor has power and is turned on, then plug the cable into a port on your computer that matches what you need.
If you're having problems with the connection, try disconnecting your adapter for a few seconds and then reconnecting it. This can help reset the connection and fix any problems.
You can also check your display settings in System Preferences to make sure the Mac is recognizing the monitor correctly.
From here you can adjust things like arrangement, screen mirroring, resolution, and more. This is a great way to get more workspace on your screen and improve your productivity.
3. Check the Settings:
When the cables and connections are all sorted out it's time to check that your monitor and Macbook Pro are communicating properly.
This means going into System Preferences > Displays and making sure that both your MacBook screen and the external monitor are arranged in ways that match up in real life.
Often it can be a matter of having the screens positioned to reflect how you work in reality and can really help improve productivity.
The Arrangement options allow you to adjust the position of your screens, their brightness, contrast, resolution, and more.
Another thing that you might need to do is to make sure that your adapter is compatible. There are many different types of adapters out there so make sure that yours matches up with the ports on your Macbook and the monitor you have in mind. If not, you'll need to switch over to one that is.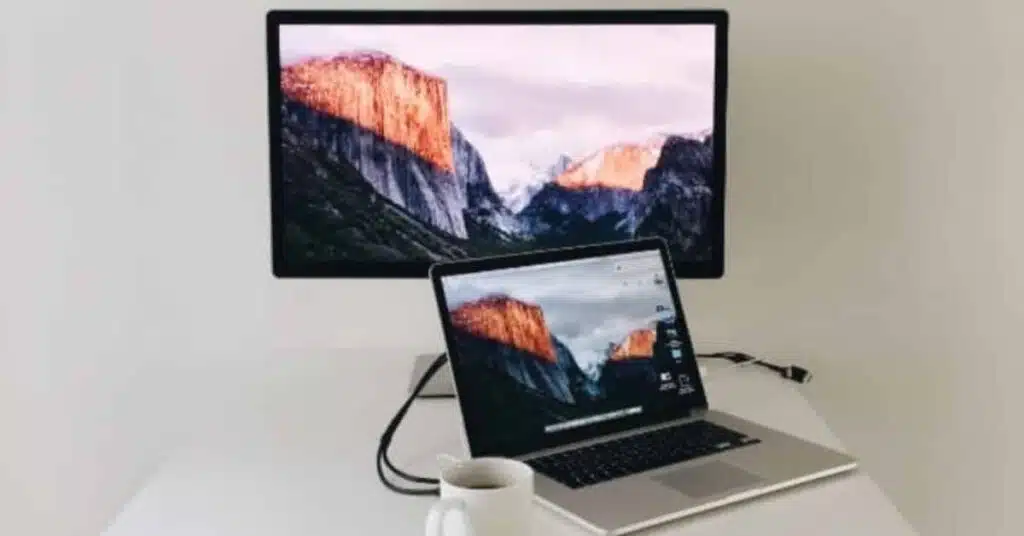 4. How to Connect Monitor to Macbook Pro Restart:
Restarting the monitor after connecting to your MacBook is an easy troubleshooting step that can fix many issues. This can be especially helpful if you are having difficulty getting macOS to recognize the monitor.
Unplugging the cable and plugging it back in can eliminate loose connections that could keep your computer from seeing the monitor. It can also be a good idea to try using a different cable if possible.
Once you have the cables connected and restarted your laptop, it's a good idea to head into System Preferences > Displays. From here you can set up how your monitors are arranged so that they match up with what you see in real life.
This will make for a much more comfortable and productive experience. To do this, simply click and drag the blue boxes that represent your MacBook screen and the external monitor to positions that match up. You can also adjust the brightness, resolution, rotation, and colors of your displays from here.