While the Xbox Series X and S may be more focused on games than the usual computer peripherals, they do support keyboard and mouse input.
Most wireless gaming mice and keyboards with their own USB transmitters work just fine, though those that share a single transmitter could suffer from occasional issues.
Keyboard How to Connect Mouse and Keyboard to Xbox Series X:
Some long-time PC gamers have a hard time getting use to the controllers in Xbox games. This is especially true with first-person shooter titles, where it's difficult to get the right sensitivity balance between your fingers and the game's movement sticks.
Fortunately, Microsoft has included support for keyboard and mouse input on both the Xbox Series X and the Xbox One S.
The console will recognize the peripherals as soon as you plug them in. The only issue is that some wireless mouse and keyboard sets use a single USB dongle for both devices, which can cause issues with the Xbox's responsiveness.
Otherwise, any standard USB keyboard should work fine with the console. Some users even report success with Bluetooth devices, though those seem to be more hit-or-miss.
As for the keyboard, most of the same shortcuts you'd find on a PC work, so you should be able to control the dashboard and navigate your settings without too much trouble.
Mouse How to Connect Mouse and Keyboard to Xbox Series X:
While Microsoft's Xbox Series X|S console design with controllers in mind, it does support mice and keyboard peripherals.
This allows users to navigate the console's menu systems and play some games using these input devices.
The system is based on the same underlying architecture as Windows, which means that most USB keyboards and mice should work with it.
If you do buy a new mouse or keyboard, check its specs to make sure it's compatible with the Xbox.
If you have a wired mouse and keyboard, simply plug them into any spare USB ports on the front or back of the console. Wireless devices with their own USB dongles should also work.
If you have trouble getting a device to connect, try switching the cords or using a different USB port. You can configure things like pointer speed and swapping buttons by pressing the guide button on the console and going into Settings > Profiles & System> Devices & Connections.
Dongle:
Although most Xbox users will only use controllers for gameplay, keyboards, and mice are also supported by the console.
This makes it a great choice for gamers who want to get that PC feel while playing games like shooters and RTS titles.
The Xbox Series X and Series S support both wireless and wired mouse and keyboard peripherals. Just plug the devices into a USB port found at the front or rear of the console. The Xbox will recognize them automatically and they're ready to use straight away.
You may need to configure the device settings to ensure that everything works as intended. For example, you can change the pointer speed or swap buttons by going to Profiles & System then Settings then Devices & Connections.
You'll also need to verify that the game you want to play supports mouse and keyboard inputs before you start gaming.
This can be done by searching online or checking the list of compatible games on Microsoft's website.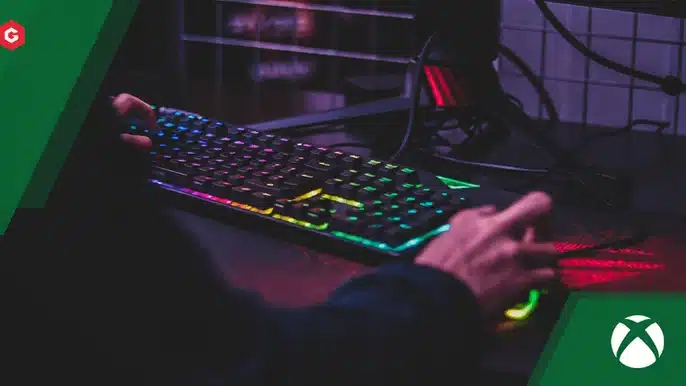 Ports How to Connect Mouse and Keyboard to Xbox Series X:
Microsoft's Xbox Series X and S consoles are designed to support mice and keyboards along with game controllers.
Users can hook up the peripherals to their consoles by simply plugging them into a USB port found on either side of the machine.
Almost all USB mice and keyboards should work on the new console. Even wireless models will work, as long as the transmitters used are compatible with the Series X and S consoles.
If you have a mouse or keyboard that doesn't use a USB hub, there's an adapter that will allow you to connect it.
In addition to the mouse and keyboard, players can also plug in an external hard drive to add more storage space for games and movies.
There's no definitive list of compatible external drives, but most devices that have a USB connector should work.
However, you should know that the Series X and S consoles only have two USB ports on them, so a hub will be require to use more than one accessory.